Publication:
The first International Day of Light in Spain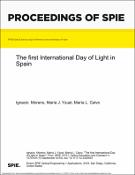 Advisors (or tutors)
Editors
Publisher
SPIE - International Society for Optical Engineering
Abstract
In this work, we review the main activities related to the International Day of Light (IDL) in Spain. We describe the actions of the Spanish Committee for IDL that has been created in Spain, reactivating the Spanish Committee for the International Year of Light created in 2015. The Spanish Committee of the IDL has been very active in promoting the realization of events, and providing tools for the IDL related information dissemination, as the specific related webpage for the IDL in Spain. The Spanish Committee also was the Spanish contact with the International Secretariat of the IDL. We describe the flagship IDL event in Spain that was organized in the Faculty of Physics Sciences of Universidad Complutense de Madrid on May 16th 2018. And we report on many other activities that have been developed in different places in Spain. These activities of the IDL in Spain are intended to make the society aware of the importance of the light and the light based technologies for the progress and well-being of the humankind. They have also been oriented to attract young talent to the studies of science and engineering.
Description
© 2018 SPIE. ISBN: 978-1-5106-2054-4 Conference on Optics Education and Outreach V (5º. 2018. San Diego, California). The authors of this paper acknowledge the members of the Spanish Committee of the International Day of Light, and the support of the different organizations and companies that were sponsors and patrons of the IDL in Spain: SEDOPTICA, RSEF, Fundación Ramón Areces, Universidad Complutense de Madrid, ICO, SPIE; IO-CSIC, ICFO, ALBA CD6, CEI, Fotónica21, SECPhO, APDI, Red Eléctrica de España, IOT, Philips Lasing, UCM-Valeo, MTB and Olympus.
Collections