Publication:
Ontology and gnoseology of capitalism in Isaak Illich Rubin: 'Essays on marxist theory of value'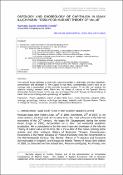 Authors
Advisors (or tutors)
Editors
Publisher
Universidad Complutense de Madrid
Abstract
This concise essay attempts to show why Isaak Illich Rubin is, until today, the best interpreter, commentator and developer of The Capital of Karl Marx, understanding Marx's work as an ontology and a gnoseology of the capitalist economic system. To do this, we analyze the relations existing between Marx, Rubin and the theory of science of the Spanish Marxist philosopher Gustavo Bueno. In this way, we can interpret the work "Essays on Marxist theory of value" also as an ontology and a gnoseology of capitalism.
Citation
Santiago Armesilla:  Valor, trabajo, demanda y Estado: esbozo de una teoría circularistasintética del valor-trabajo, Revista El Catoblepas, nº 98, abril 2010, p. 16.  Análisis comparativo de la teoría del valor-trabajo y de la teoría de la utilidad marginal desde la teoría del cierre categorial, PhD. Dissertation, not published, june, Madrid 2010. Gustavo Bueno:  El papel de la Filosofía en el conjunto del Saber, Editorial Ciencia Nueva, Madrid 1970.  Ensayo sobre las categorías de la Economía Política, La Gaya Ciencia, Barcelona 1972.  Ensayos Materialistas, Taurus, Madrid 1972.  Teoría del Cierre Categorial, Tomos 1-5, Pentalfa, Oviedo 1992-1993. Javier Delgado Palomar:  Sobre la necesidad del estudio filosófico de la Economía Política, Revista El Catoblepas, nº 2, abril 2002, p. 2.  La Economía como disciplina científica, Revista El Catoblepas, nº 13, marzo 2003, p. 13. Pelayo García Sierra:  Diccionario Filosófico, Biblioteca Filosofía en Español, Oviedo 2000. Carlos Marx:  El Capital, FCE, Ciudad de México 2001.  Elementos fundamentales para una crítica de la Economía Política, Siglo XXI Editores, Buenos Aires 2010. Isaac Illich Rubin:  Ensayos sobre la teoría marxista en español, Cuadernos de Pasado y Presente, Buenos Aires 1974.  Historia del Pensamiento Económico. Tomo 1, los mercantilistas, Maia Ediciones, Madrid 2011. Joseph Alois Schumpeter:  Historia del Análisis Económico, Ariel Ediciones, Madrid 1994.
Collections