Publication:
Entre La Violencia, la colonización y la adjudicación de reservas. Relatos sikuanis sobre el abandono, el despojo y la recuperación del territorio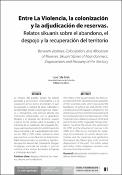 Authors
Advisors (or tutors)
Editors
Publisher
Instituto Colombiano de Antropología e Historia
Abstract
La historia del pueblo sikuani ha estado asociada a la incursión colonizadora y a la usurpación de sus tierras ancestrales, lo que ha causado la ruptura de lazos culturales y de identidad. Desde una perspectiva histórica y etnográfica, este artículo aborda dos momentos relacionados con el abandono forzado y el despojo del territorio sikuani. A partir de los relatos sobre el pasado y la memoria de los habitantes del resguardo Wacoyo, examino el periodo de La Violencia de los años cincuenta y de la adjudicación de reservas en 1960 y 1970, como momentos clave para explicar la constitución de la territorialidad sikuani actual y los sentidos y significados que los sikuanis del presente le otorgan al despojo territorial del pasado. El artículo valoriza y hace visibles los relatos indígenas y el despojo asociado.
The history of the Sikuani people has been associated with the Colonization and usurpation of their ancestral lands, which has caused the breakdown of cultural ties and identity. From a historical and ethnographic perspective, this article discusses two moments associated with forced abandonment and dispossession of the Sikuani territory. Based on accounts of the past and memories of the resguardo Wacoyo inhabitants, I examine the period of La Violencia in the 1950s and the allocation of reservas in the 1960s and 1970s as key moments for explaining the constitution of current Sikuani territoriality, and the meanings and significance that present day Sikuani give to the territorial dispossession of the past. The article values and makes visible indigenous narratives and the associated dispossession.
Collections