Publication:
Personas y objetos en Timor Oriental: relaciones lulik entre entidades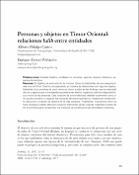 Advisors (or tutors)
Editors
Abstract
El objetivo de este artículo es mostrar cómo los habitantes de una pequeña aldea rural de Timor Oriental conceptualizan su manera de relacionarse con algunos objetos. Mediante cinco estudios de caso, veremos cómo a estos se les atribuye una normatividad de uso y agencia que al transgredirse puede tener efectos negativos sobre la integridad física o moral de las personas. Esta violación de la normatividad, referida localmente como lulik, ayuda a construir y negociar las fronteras del ámbito doméstico mediante el enrolamiento discursivo y práctico de objetos de la vida cotidiana. Finalmente, mostramos cómo se hace necesario prestar atención a algunos elementos de las culturas materiales locales de los timorenses para comprender los procesos de construcción de identidades colectivas.
This paper aims to show how the people of a small rural hamlet in East Timor conceptualise their relations with some objects. Through five case studies, we will show how a normativity of use and agency is attributed to these objects, which can have negative effects on people's physical or moral integrity whenever transgressed. This transgression of the normativity of use, known locally as lulik, helps to construct and negotiate the boundaries of the domestic domain through the discursive and practical enrolment of everyday objects. Finally, we will show how it becomes necessary to pay attention to some elements of local Timorese material cultures in order to understand the construction processes of collective identity.
Ekialde Timorreko landa-herrixka txiki bateko biztanleek objektu batzuekin erlazionatzeko duten modua kontzeptualizatzen dute; artikulu honen helburua kontzeptualizazio hori erakustea da. Egindako bost ikerketa praktikoek frogatuko duten moduan, erabileraarau batzuk eta agentzia bat esleitzen dizkiete objektuei, eta baldintza horiek urratzeak eragin txarra izan dezake jendearen osotasun fisikoan edota moralean. Bertakoek lulik izena eman diote baldintza-urratze horri. Antza, lagungarria da etxe-mugak eraikitzeko eta eztabaidatzeko unean, eguneroko objektuak modu diskurtsibo eta praktikoan sartuz. Azkenik, frogatuko dugu beharrezkoa dela bertako elementu kultural eta material batzuei erreparatzea, talde-nortasunak eraikitzeko prozesuak ulertu nahi baditugu.
Collections