Publication:
El concepto de feminicidio y su percepción por parte del asociacionismo feminista en España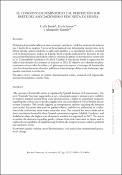 Advisors (or tutors)
Editors
Abstract
El término feminicidio indica un nuevo concepto para hacer visible los asesinatos de mujeres por el hecho de ser mujeres. A pesar de la inclusión de esta herramienta interpretativa en la última década, queda pendiente su aplicación jurídica y su asimilación desde la sociedad civil en diversos países, incluso en España. En el artículo analizamos los discursos de tres asociaciones feministas que luchan contra la violencia de género en nuestro país y tienen sede en las Comunidades Autónomas (Madrid, Cataluña y Andalucía) donde se registraron los índices más elevados de asesinatos de mujeres en 2012. El objetivo es evidenciar sus planteamientos críticos sobre la violencia de género para incorporar el concepto de feminicidio entre las referencias socioculturales, políticas y normativas que definen este fenómeno y que pueden contribuir a erradicarlo.
«The concept of feminicide and its recognition by Spanish feminist civil associations». The term "femicide" has been suggested as a new conceptual category aiming to give visibility to women's murders derived from sexist discrimination. Despite its conceptual inclusion, regarding the civil society, its juridical application and assimilation is still on hold in diverse western countries. This article suggests an interpretative analysis regarding the feminist associations' discourses that work on gender violence, and that we understand as a reflection of the civil society more aware about this issue. The research has been conducted at three associations located in those Spanish autonomous regions (Madrid, Catalonia, and Andalucia) where the highest rate of women's murders was registered in 2012. The aim is to outline the discourse regarding gender violence from civic association in Spain, and to explore the susceptibility of implementing the femicide category in socio-cultural, political and normative terms.
Collections