Publication:
Espacios habitados y vulnerabilidades socioeconómicas selectivas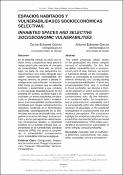 Advisors (or tutors)
Editors
Abstract
En el presente artículo se hace una revisión crítica a específicas tesis sobre el riesgo globalizado mediante el concepto de vulnerabilidad. Para ello, en primer lugar, se parte de una perspectiva socioeconómica como base escogida para definir mencionada vulnerabilidad. En segundo término, se ponen a debate investigaciones que entienden la vulnerabilidad como un proceso que se extiende territorial y socialmente y que conduce a una supuesta desestabilización de los estables. En cambio, en tercer lugar y en contraste con estos postulados, se desarrolla un planteamiento teórico sintetizado en una vulnerabilidad socioeconómica constituida por riesgos socioeconómicos selectivos, contenida en el territorio pero significada sociológicamente en la diferenciada estructura de plausibilidad, en la gestión posicional del riesgo socioeconómico y en las percepciones relacionales. Las conclusiones resaltan la capacidad analítica de un posible enfoque que, representado en la vulnerabilidad percibida relacional (VPR), nos ayuda a comprender la vulnerabilidad socioeconómica como probabilidad altamente desigual.
This article presentsa critical review of the generalized risk thesis usingthe concept of vulnerability. For this, first we define vulnerability from a socioeconomic point of view. Second, we launch a theoretical debate on the conceptualization of vulnerability as a process that extends territorially and socially, to a supposed destabilization of what was previously stable. Third, and in contrast to these postulates, we develop a theoretical approach in which socioeconomic vulnerability is comprised of selective socioeconomic risks. By this definition, it is contained within the broaderterritory of socioeconomic vulnerability, but it is sociologically within the differentiated structure of plausibility, in the positional management of socioeconomic risk and relational perceptions. The conclusions highlight the analytical potential of an approach that, represented in the perceived vulnerabilityrelational (VPR), helps us understand socioeconomic vulnerability in terms of highly unequal probability.
Collections