Publication:
El idioma del contrato en el Derecho internacional privado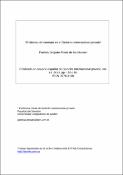 Advisors (or tutors)
Editors
Abstract
Cuando la lengua materna de las partes en un contrato no coincide, se plantea un problema específico: el de elegir el idioma en que desarrollarán sus negociaciones y plasmarán los acuerdos que alcancen. Esta elección suele ser objeto en sí misma de negociación, porque ambas partes preferirán emplear el propio idioma para evitar, con ello, que se introduzca un factor perturbador en la determinación de sus derechos y obligaciones. Se optará, así, por un idioma "neutral" que puedan dominar ambas partes (habitualmente, el inglés), por el idioma de una de ellas, o por que los idiomas de ambas sean empleados en pie de igualdad. De esta forma, las cláusulas idiomáticas se convierten en componentes habituales de los contratos internacionales Pero el idioma del contrato no sólo constituye un elemento clave para vehicular los conceptos, ni se limita a condicionar la interpretación del contrato. También puede tener repercusiones sobre cuestiones tales como la determinación del idioma del arbitraje, la competencia judicial internacional, la ley aplicable al contrato y las posibilidades de oponerse a la recepción de una notificación.
Where the parties to a contract do not share the same mother tongue, an additional question arises. It happens to be necessary to choose the language to be employed within their relationship and to conclude the contract. Each party will try to impose its own language, so as to avoid linguistic risks, and the election will become a matter of negotiation. The parties may agree to use a third neutral language (habitually, English), the language of one of them or both. In any case, specific Language Clauses will be needed in order to solve or prevent conflicts. The language finally chosen will be paramount to manifest the concepts, and it will impinge on the interpretation of the contract. But it might also have some effect on international jurisdiction, the law applicable to the contract and the service of documents and acts.
Collections