Publication:
Análisis, diseño e implementación de una infraestructura de datos espaciales eólicos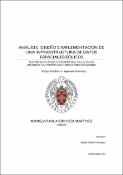 Authors
Advisors (or tutors)
Editors
Abstract
Los tipos de información generada por las instituciones se presentan en diferentes formatos, unos más conocidos y manejables que otros. Además, la necesidad de universalización de la información ha generado el desarrollo de diferentes herramientas para la administración y divulgación de tipos especiales de datos. El Instituto Nacional de Eficiencia Energética y Energía Renovable del Ecuador nos comunicó la necesidad de crear un módulo adicional a su plataforma de conocimiento que en la actualidad no soporta información georreferenciada que es generada por los diferentes proyectos en desarrollo. Para ello, se revisó la normativa para la información georreferenciada y este tipo de sistemas con la finalidad de establecer los pros y contras y escoger las herramientas que funcionarán para solventar el problema descrito por la institución, teniendo en cuenta que en el Ecuador se cuenta con normativa que indica el uso de software libre para el desarrollo de este tipo de infraestructuras. El presente trabajo corresponde al desarrollo de una infraestructura de datos espaciales con herramientas que permiten el trabajo colaborativo para los usuarios internos, el almacenamiento mediante bases de datos, servicios para compartir información georreferenciada mediante un servidor geográfico y consulta de mapas mediante una página web para usuarios externos y la configuración necesaria para la conexión entre ellas.
The types of information generated by the institutions are presented in different formats, some better known and manageable than others. Besides, the need for universalization of information has generated the development of different tools for the administration and dissemination of special types of data. The National Institute of Energy Efficiency and Renewable Energy of Ecuador communicated to us the need to create an additional module to its knowledge platform that at present does not support georeferenced information that is generated by the different projects under development. For this purpose, the regulations for georeferenced information and this type of systems were revised in order to establish the pros and cons and to choose the tools that will work to solve the problem described by the institution, considering that Ecuador has Normative that indicates the use of free software for the development of this type of infrastructures. The present work corresponds to the development of an infrastructure of spatial data with tools that allow the collaborative work for the internal users, the storage by means of data bases, services to share georeferenced information by means of a geographic server and consultation of maps by means of a web page for users And the necessary configuration for the connection between them.
Description
Máster en Ingeniería Informática, Facultad de Informática, Departamento de Sistemas Informáticos y Computación, curso 2016-2017