Publication:
La edición crítica digital y sus herramientas informáticas aplicadas al romancero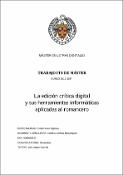 Authors
Advisors (or tutors)
Editors
Abstract
En este trabajo se plantea cómo se debe hacer una edición crítica del romancero y los problemas que conlleva, sin olvidar que el romancero procede de la literatura oral. Las tres fases fundamentales para la realización de una edición crítica son: digitalización, edición y publicación. A continuación, se exponen las herramientas informáticas que hay disponibles actualmente para la realización de ediciones críticas digitales, así mismo se muestran ejemplos de proyectos realizados en este marco o ámbito. Para finalizar tomaré a modo de ejemplo un romance titulado "El Maestre de Calatrava y Albayaldos", y realizaré la edición crítica con la ayuda de las herramientas Juxta y Classical Text Editor. Además, mostraré los resultados de exportación a lenguaje TEI y html.
In this work I propose how to make a critical edition of the ballads and the problems it entails, without forgetting that the ballads come from oral literature. The three fundamental phases for the realization of a critical edition are: digitization, edition and publication. Next, the computer tools that are currently available for the realization of digital critical editions are exposed, as well as examples of projects carried out in this framework or scope. To finish I will take as an example a romance titled "El Maestre de Calatrava y Albayaldos", and I will carry out the critical edition with the help of the tools Juxta and Classical Text Editor. Also, I will show the export results to TEI and html language.