Publication:
El arte y el coleccionismo al servicio de la educación: la colección de estampas de George W. Davison en Wesleyan University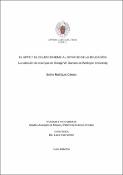 Authors
Advisors (or tutors)
Editors
Abstract
El Davison Art Center, en Wesleyan University (Middletown, Connecticut) alberga una de las más importantes colecciones de estampas que puedan encontrarse en un museo universitario en Estados Unidos. El estudio de la vida de su fundador, George W. Davison (1872-1953), en relación con el contenido de su colección, revela un patrón de adquisición novedoso que prioriza desde etapas tempranas el uso futuro de las obras por parte de la comunidad universitaria. A su vez, Davison supone una figura esencial para entender las complejas relaciones entre universidades, coleccionistas, artistas, marchantes y galerías estadounidenses en la primera mitad del siglo XX. Entre los expertos en el arte del grabado, este fue un momento de especial interés por las estampas de los Antiguos Maestros y de los representantes del "etching revival", siendo la colección Davison un ejemplo de ello. Ciertos patrones de adquisición también se han hecho visibles gracias al estudio de procedencia de las obras incluidas en el anexo.
The Davison Art Center, at Wesleyan University (Middletown, Connecticut) houses one of the most important print collections at an American university. The study of George W. Davison's life and the content of his collection reveals an innovative acquisition pattern which priories, since the early stages, the artworks' future use by the university community. Moreover, Davison constitutes an essential figure to understand the complex links among universities, collectors, artists, dealers, and galleries in the United States in the first half of the 20th century. For print connoisseurs, this was a moment of especial interest towards the Old Masters and the artists of the "etching revival," being Davison's collection a great example of that trend. Certain acquisition patterns have been also revealed thanks to the provenance study of the annexed selection of prints.