Publication:
Aerobiología del polen alergénico y polinosis en Aranjuez: consejos a la población a través de oficinas de farmacia y sistema sanitario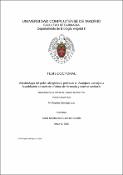 Files
Authors
Advisors (or tutors)
Editors
Publisher
Universidad Complutense de Madrid
Abstract
El polen es uno de los desencadenantes exógenos más importantes de procesos alérgicos entre la población. Durante la época de floración de las plantas productoras, se eleva su cantidad en el aire que respiramos y provoca serios trastornos a un porcentaje de la población cada vez más alto. Por ello, la Comisión Regional de Prevención y Control del Asma de la Comunidad de Madrid impulsó, en el año 1992, la creación de un dispositivo de vigilancia de los niveles polínicos atmosféricos en la región que es la Red Palinológica de la Comunidad de Madrid (RED PALINOCAM), a la que pertenece la estación aerobiológica de Aranjuez. La Red lleva más de 20 años vigilando e informando sobre la concentración de polen en el aire a los madrileños. En todo este tiempo se ha ido progresando en el conocimiento del contenido aerobiológico de la región, periodos de polinización, plantas polinizadoras más frecuentes etc. Por ello emprendimos esta tesis como contribución a un mejor conocimiento de la composición y evolución temporal del espectro polínico atmosférico de la ciudad de Aranjuez, utilizando para ello los datos aerobiológicos de los años 1995 a 2010...
Pollen is one of the most important exogenous triggers for allergic conditions among the population. During the flowering season of production plants, the amount increases in the air we breathe and causes serious disruption to a percentage of the population at a greater rate each time. Therefore, the Regional Commission for the Prevention and Control of Asthma of the Autonomous Community of Madrid encouraged, in 1992, the creation of a monitoring device of atmospheric pollen levels in the region, which is the Palynological Network of the Autonomous Community of Madrid (RED PALINOCAM) to which includes the aerobiological station of Aranjuez. The network has been monitoring and reporting for more than 20 years, the concentration of pollen within the air of Madrid. Throughout this time, progress has been made in the knowledge of the contents of the Aerobiological within the region, periods of pollination, more frequent pollinating plants, etc. Therefore we undertook this thesis as a contribution to a better understanding of the composition and temporal evolution of atmospheric pollen spectrum of the city of Aranjuez, using aerobiological data between the years of 1995-2010...
Description
Tesis inédita de la Universidad Complutense de Madrid, Facultad de Farmacia, Departamento de Biología Vegetal II, leída el 20-01-2016
Collections