Publication:
Revisión sistemática y metanálisis del rendimiento diagnóstico de los hallazgos ecográficos componentes del sonograma genético realizado en el segundo trimestre de gestación para la detección de Síndrome de Down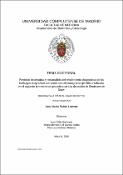 Files
Authors
Advisors (or tutors)
Editors
Publisher
Universidad Complutense de Madrid
Abstract
El impacto que tienen los defectos congénitos sobre la salud de las personas afectadas, sus familias y sobre la sociedad en su conjunto es muy considerable. En España se estima que existe una prevalencia de anomalías cromosómicas hasta 2010 de 1,49% de los recién nacidos vivos. El Síndrome de Down (SD) es la tercera causa de defecto congénito y la primera de cromosomopatía, con una prevalencia de 23 por cada 10000 nacidos vivos. La importante morbilidad asociada en los individuos con síndrome de Down se acompaña de un alto coste económico, estimándose en 329750,63 euros por cada nuevo caso, constituyendo un cargo a lo largo de la vida de 1316 millones de euros. Por todo ello, la detección de esta alteración es la indicación más frecuente de diagnóstico prenatal invasivo. Las pruebas invasivas, como amniocentesis, biopsia de vellosidades coriales y cordocentesis, se asocian con un aumento del 1% del riesgo de aborto y, por tanto, sólo se realizan cuando se considera que hay una probabilidad elevada de que el feto tenga un defecto cromosómico, siendo por tanto fundamental una buena selección del grupo de gestantes de alto riesgo...
The impact that the congenital defects have on the health of the affected individuals, their families and society is remarkable. In Spain it is considered that it exists a prevalence of chromosomal abnormalities until 2010 of 1, 49 % of the live births. Down Syndrome (DS) is the third cause of congenital defect and the first of chromosomopathy, with a prevalence of 23 for every 10000 born alive. The important morbidity associated in the individuals with Down syndrome is accompanied by a high economic cost, being estimated in 329750, 63 Euros by every new case, constituting a charge lifelong of 1316 million Euros. Therefore, the detection of this alteration is the most frequent indication of prenatal invasive diagnosis. The invasive tests, as amniocentesis, biopsy of chorionic villus sampling and cordocentesis, are associated with an increase of 1 % of the risk of miscarriage and, consequently, they are only carried out when there is a high probability of the fetus has a chromosomal defect, being thus fundamental a good selection of the group of high risk expectants...
Description
Tesis inédita de la Universidad Complutense de Madrid, Facultad de Medicina, Departamento de Obstetricia y Ginecología, leída el 08-05-2015
Collections