Publication:
El vaciado del natural vida, muerte y aura en la escultura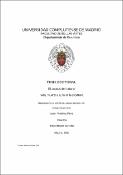 Files
Authors
Advisors (or tutors)
Editors
Publisher
Universidad Complutense de Madrid
Abstract
Como término artístico, denominamos vaciado del natural al procedimiento por medio del cual se obtiene, a través de un proceso de moldes, una copia tridimensional precisa en cuanto a volumen y a texturas de cualquier elemento de la naturaleza, sea vivo o inerte, orgánico o inorgánico. El término también es utilizado para definir el producto resultante de la práctica de este procedimiento. Si aplicamos esta definición en sentido estricto, no podría considerarse vaciado del natural la reproducción por medio de moldes de elementos manufacturados por el hombre. No obstante, en la reproducción de elementos artificiales o manufacturados, se considera aplicable el término vaciado del natural a la reproducción de objetos que han sido creados para una función distinta de la artística que se pretende con su vaciado, como pueda ser una silla o una guitarra. Este procedimiento se ha aplicado habitualmente en la creación escultórica y a este ámbito se dirige el enfoque de la investigación. No obstante, por diversas causas, el procedimiento ha sido muy útil a otras áreas de conocimiento como la arqueología o la medicina y la evolución de su aplicación ha estado intrínsecamente unida a los creadores plásticos con los que se ha producido una estrecha colaboración. Esta se ha producido en las dos direcciones, acudiendo las ciencias que así lo requerían a los artistas como conocedores de la técnica y los procesos e incorporando los artistas a su trabajo las innovaciones desarrolladas por otras áreas e inspirándose en sus resultados. Esta estrecha colaboración hace que en la investigación se traten aspectos que atañen a otras áreas de conocimiento y se analicen sus conexiones con el arte. El objetivo de la presente investigación es desarrollar un estudio desde los posibles orígenes de este procedimiento y analizar su utilización a lo largo de la historia en el entorno socio-cultural de la civilización occidental. Para ello se acude a la documentación escrita que revela y analiza la utilización del vaciado del natural y se investigan las pruebas físicas que la demuestran (moldes, positivos, huellas del natural)...
Lifecasting is the art term that designates the process by which, after a series of molds, we obtain a tridimensional copy of an element in Nature; a copy that mimics precisely the element's volume and textures, regardless of whether it is a living or lifeless element, an organic element or an inorganic one. A lifecast is the result of said process. Strictly speaking, we cannot consider the product of applying this technique to a man-made item to be a lifecast. However, copies of artificial or manufactured items, such as a chair or a guitar, that have a function which differs radically from the artistic purpose aimed through their casting are considered to be proper lifecasts. Lifecasting has been often used in sculpture, being this aspect of lifecasting the main focus of the present research. Lifecasting has been, nevertheless, a very useful technique in other fields of knowledge, namely archaeology or medicine. The development of its different applications has been intimately connected to plastic artists, who have been closely involved in these processes. The collaboration between Science and Art has been bidirectional: on the one hand, scientists have sought artists' advice at times, since the latter were the experts in the techniques and processes involved; and on the other, artists' work has benefitted and has received inspiration from the innovations achieved in other fields of knowledge. This is the reason why this research explores aspects relevant to other fields of knowledge, and why their connections with Art are analysed. The aim of the present research is to put forward a study on lifecasting since its likely origins. The use of lifecasting over the socio-cultural history of Western civilization is here analysed by means of the written documents available (which give prove of and detail the uses of lifecasting), and the physical evidence of its use (moulds, positive casts, prints from the model)...
Description
Tesis inédita de la Universidad Complutense de Madrid, Facultad de Bellas Artes, Departamento de Escultura, leída el 14-01-2016
Collections