Publication:
Las ciudades de Hispanoamérica como sistema urbano. Análisis de fortalezas y oportunidades en el escenario de la globalización. Buenos Aires y Ciudad de México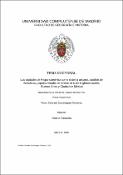 Files
Advisors (or tutors)
Editors
Publisher
Universidad Complutense de Madrid
Abstract
El tema central del trabajo es la perdurabilidad de la tradición urbana desarrollada en América Latina sobre la base del sistema urbano construido en las primeras décadas del siglo XVI por los españoles para organizar el territorio, sistema que comprende desde los comienzos las principales ciudades de América española e integra hoy el conjunto de las capitales de los países hispanoamericanos. Este sistema urbano se consolidó durante la Colonia (siglos XVI al XVIII) y sobrevivió a tres grandes cambios: a) fue renovado a comienzos del siglo XIX, cuando las principales ciudades hispanoamericanas conducen la Revolución de Independencia y las ciudades conservan su primacía y dominio territorial en las nuevas jurisdicciones emanadas de la Independencia; b) se replantea a fines del siglo XIX, en un proceso de la integración con la economía mundial, acompañando la consolidación de los estados nacionales, en un dramático cambio de escala que transforma profundamente los territorios latinoamericanos; c) actualmente, en un proceso iniciado en el último tercio del siglo XX, cuando las ciudades inician un nuevo modo de interacción en el territorio regional y en el escenario global, muchas veces por encima de las jurisdicciones heredadas del estado nacional. El trabajo, enfocado al caso de las dos principales ciudades hispanoamericanas --Buenos Aires y Ciudad de México-- describe el momento en que esa tradición urbana se apaga, hacia la década de 1960, en el mismo período en que América Latina inicia el camino de su definitiva urbanización, las poblaciones devienen mayoritariamente urbanas en todos los países del continente y las grandes ciudades dominan el escenario (especialmente México y Buenos Aires, las dos ciudades de habla española más pobladas, ricas y complejas)...
The central topic of the paper is the endurance of urban tradition developed in Latin-America on the basis of the urban system built on the early decades of the 16th century by the Spaniards in order to organize the territory, a system which comprises from the early days of the main cities of Spanish America and presently integrates the capitals of Hispanic-American countries. This urban system became established during the Colony (16th to 18th centuries) and survived three great changes: a) it was renewed in the early 19th century, when the main Hispanic- American cities conducted the Independence Revolution and the cities preserved their primacy and territorial control in the new jurisdictions that arose from the Independence; b) it raised again towards the end of the 19th century, in a process of integration with the world economy, accompanying the creation of the nation states, in a dramatic change of scale that deeply transformed Latin-American territories; c) currently, in a process that began in the last third of the 20th century, when the cities started a new mode of interaction in the regional territory and in the global scenario, often above the jurisdictions inherited from the nation state. The paper, focused on the case of the two main Hispanic-American cities –Buenos Aires and Mexico City– describes the moment in which this urban tradition faded, in a paradoxical and difficult to explain manner, towards the decade of 1960, in the same period in which Latin- America set on the road towards its definitive urbanization, populations became mostly urban in all countries in the continent, and the great cities dominated the scene (specially Mexico City and Buenos Aires, the two most populated, rich and complex Spanish-speaking cities).
Description
Tesis inédita de la Universidad Complutense de Madrid, Facultad de Geografía e Historia, leída el 05-02-2016
Collections