Publication:
Edición crítica, traducción y comentario del diálogo "Sobre la filosofía" de Aristóteles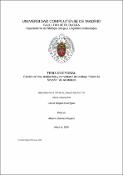 Files
Authors
Advisors (or tutors)
Editors
Publisher
Universidad Complutense de Madrid
Abstract
El objetivo del presente trabajo es ofrecer por primera vez en cualquier lengua una edición crítica acompañada de traducción y comentario del diálogo aristotélico Sobre la filosofía. Por supuesto, ha habido ediciones con aparato crítico, como la de Rose (18863), ediciones con traducción y comentario, como la de Untersteiner (1963), edición con traducción, como la de Heitz (1869), Teuzabá (1962-63), Báez (2002) o Zanatta (2008), traducción con comentario, como la de Flashar (2006), y unas cuantas ediciones de los fragmentos en griego, como la de Walzer (1934), Ross (1955) y Gigon (1987), por no hablar de las simples traducciones, como la de Barnes (1985), la de Gigon (1961), la de Álvaro Vallejo (2005) o la reciente de Pellegrin (2014). Pero hasta ahora, ninguna que aúne edición crítica, traducción y comentario. Un segundo objetivo era el de realizar una edición que, por un lado, supusiera una puesta al día en la investigación sobre el diálogo y, por otro, que ofreciera al investigador un instrumento de trabajo lo más completo posible para el estudio de la obra, siendo fundamental en ese sentido el aparato de loci similes adjunto al aparato crítico. Y ambos aspectos también han sido cumplidamente abordados. Podemos decir, por tanto, que la principal novedad y la mayor aportación de este trabajo es el cumplimiento de ambos objetivos. Metodología Esta es la primera edición crítica de la obra desde la edición revisada de Rose en 1886. Es, además, como ya dijimos, la única edición existente que aúna una edición crítica del texto griego, una traducción y un comentario. Ahora bien, al ser una edición de fragmentos, está limitada por su propia índole, es decir, tiene que renunciar a características propias de la edición de textos completos como el estudio previo de la tradición manuscrita, el análisis codicológico, el conocimiento de la historia del texto, la determinación de la relaciones entre diversos manuscritos y la consiguiente elaboración de un stemma codicum. Como afirma Bernabé (20102) 125, "el editor de fragmentos ha de buscar los textos del autor que edita dentro de los de otros autores, que son múltiples y diversos"...
This PhD. thesis was born from the need of having an updated critical edition of Aristotle's dialogue On philosophy, whose last monographical edition by Untersteiner (from 1963), was urgent to revisit. The thesis meets this need, provides an original approach to the work, and is a useful tool for future research on the dialogue and on the thought of first Aristotle. Objectives: The aim of this thesis is to offer for the first time in any language a critical edition with translation and commentary of the Aristotelian dialogue On philosophy, given that it has not appeared hitherto an edition bringing together critical apparatus, translation to a modern language and commentary. A second aim is to offer an updated edition that reflects the modern research about the work and at the same time gives to the scholar a documentated working tool to study the dialogue. It is essential in that respect the apparatus of loci similes. Both objectives have been achieved. Conclusions: The reconstruction and study of the On philosophy have resulted in the following conception of the work and his content: It was no doubt a dialogue in three books. It was one of the exoteric works of Aristotle, written to be published outside the circle of disciples in an elegant and polished style. It followed the model of the last dialogues of Plato, especially of the Timaeus, whose theology and cosmology was very present in the On philosophy, although it was also criticized. Aristotle probably appeared in the dialogue as the main character. The work was mainly narrative, without relevance of dramatic action, and with long speeches. The scheme of questions and answers played a small role. It is possible that Aristotle included an introduction in each book...
Description
Tesis inédita de la Universidad Complutense de Madrid, Facultad de Filología, Departamento de Filología Griega y Lingüística Indoeuropea, leída el 01-02-2016
Collections