Publication:
Análisis del grado de especialización de los textos de carácter económico: estudio contrastivo entre inglés y español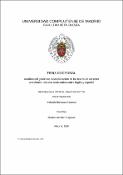 Files
Authors
Advisors (or tutors)
Editors
Publisher
Universidad Complutense de Madrid
Abstract
El hecho de que la economía sea una de las ciencias sociales cuya presencia dentro de la agenda de los medios de comunicación ha aumentado de forma considerable en los últimos años hace que cada vez se haga más necesario un estudio en profundidad de los textos, orales y escritos, que esta área de información genera. Dentro de los lenguajes de especialidad, el económico presenta una gran variedad, tanto de temáticas como de niveles, de acuerdo con el marco en el que se dé la interacción comunicativa. Las formas de abordar el estudio de los textos periodísticos económicos son múltiples pero en su mayoría, han de estar inevitablemente relacionadas con el uso que del lenguaje hacen los emisores de dichos mensajes. La lengua, como herramienta de transmisión de conocimiento, permite su observación desde múltiples ángulos. Entre ellos, el de la lingüística, una perspectiva que permite un análisis detallado de las estructuras que se repiten con mayor o menor frecuencia dentro de los textos cuya temática se enmarca dentro del área de la economía y las nanzas. Con el objetivo de determinar además cómo varía la utilización de unos y otros patrones sintácticos, semánticos, léxicos, etc. dentro de los distintos grados de especialización que han sido determinados tradicionalmente, hemos realizado un estudio del tipo de elementos lingüísticos que se distinguen dentro de los distintos textos, agrupados éstos de acuerdo con el grado de especialización esperado, según la fuente de publicación de los mismos...
Financial and economic matters are of great importance for public opinion. Nowadays, more and more people are interested in nancial information as they have become aware of the nancial and economic in uence on their daily life. Due to this interest, the media have decided to pay more attention to this kind of information and to make e orts to cover it e ectively. Traditional and new media devote now more time and more space to nancial and economic issues and, what is more, many specialised media have been created during the last decade, in part pushed by the global crisis that has a ected most of the world and that has made people conscious of what economy really means for them. Despite these e orts, some surveys prove that often, journalists, analysts and specialists do not achieve their goal and people are not able to understand nancial matters. As an example, although media have informed about it very frequently since 2007 on, more than 60% of Spanish people do not know the meaning of a commonly used word these days, risk premium, according to the UNIR research (Segado Boj et al., 2013). Some authors, such as Del Río (2004), argue that journalists and people writing about economy are not good translators and use such a specialised style that most people cannot decode it...
Description
Tesis inédita de la Universidad Complutense de Madrid, Facultad de Filología, leída el 16-01-2016
Collections