Publication:
Luis Bello: vida y época. Su producción periodística y literaria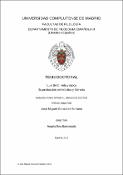 Files
Advisors (or tutors)
Editors
Publisher
Universidad Complutense de Madrid
Abstract
Taking into account the cultural and literary wealth of the first third of the twentieth century in Spain, this doctoral dissertation aims to increase our knowledge of literary journalism during that period through a monographic study of one of its greatest champions, the journalist and writer Luis Bello Trompeta (1872-1935). Although Bello enjoyed noteworthy success and popularity in life, he has since fallen into an almost complete yet unjustifiable oblivion. Bello's lifetime coincided with a brilliant period of Spanish culture, one that is almost unanimously considered not simply a Silver Age but a veritable golden age of journalism in Spain. Nevertheless, the period is often unjustly reduced to a short list of names and works of extremely well known and well studied writers. There is a tendency to forget that such writers emerged within a vast, influential context comprising numerous cultural products, writers, and works that need to be recovered. More specifically, the general inclination to privilege the book as a period's sole bearer of literary or testimonial significance often deprives us of richly complementary journalistic sources such as the chronicle or the newspaper report. Indeed, together with the book, such articles can help us achieve a broader understanding of both literary history and the personality of individual writers or the course of historical events. The fact that authors like Luis Bello are practically unknown today is likely related to the time-sensitive, intrinsically ephemeral nature of journalism, the print medium in which Bello published most of his work. Yet in spite of its passing nature, the press witnessed remarkable developments in Spain at the time, undergoing a transformative process of consolidation...
Description
Tesis inédita de la Universidad Complutense de Madrid, Facultad de Filología, Departamento de Filología II (Literatura Española), leída el 20/01/2016
Collections