Publication:
Francisco Sánchez Barbero: edición y traducción de sus poesías latinas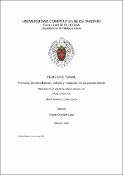 Files
Authors
Advisors (or tutors)
Editors
Publisher
Universidad Complutense de Madrid
Abstract
Esencialmente nuestra Tesis consta de tres partes. La primera es la dedicada a la Biografía del autor, Francisco Sánchez Barbero. La hemos realizado utilizando como fuentes sus propios textos. Esta reconstrucción de su vida está hecha con mucho mayor detalle y detenimiento que en las biografías precedentes, además nos hemos basado de una manera especial no solo en documentos originales, sino también en la propia obra inédita. La segunda la constituye la Edición de su Poesía Latina. Precediendo a esta, hemos incorporado una introducción a la obra. Para la edición nos basamos en el manuscrito 3.719 de la BNE. La nuestra es la primera que se fundamenta en dicho manuscrito. Por el hecho de ser autógrafo es el más importante de cuantos hay de la obra de Sánchez Barbero. Para el establecimiento del aparato crítico hemos tenido en cuenta, además de este manuscrito, la existencia de un apógrafo y de un antígrafo. En el manuscrito autógrafo existe un tercio de poesías ya editadas. Hemos incorporado las variantes que dichas poesías presentan en su edición en el aparato crítico. La tercera parte la compone la Traducción, a la que hemos incorporado unas notas extensas y variadas en torno a diversas materias filológicas. Después viene el capítulo de Conclusiones de nuestro trabajo. Seguimos con tres tipos de Índices, y continuamos con la Bibliografía, finalizando con unos apéndices o anexos, que muestran algunos documentos acreditativos de varios aspectos de la biografía. Desde nuestro punto de vista la principal aportación de nuestra Tesis es dar a conocer y estudiar un manuscrito, en gran parte inédito, como testimonio de la obra de Sánchez Barbero.
Our thesis has three parts. The first is dedicated to the biography of the author, Francisco Sánchez Barbero. We made it using his own text as a source. This reconstruction of his life goes into much more detail than in the previous biographies, and basing not only on original documents, but in his own unpublished work. The second constitutes the edition of his Poesía Latina. Preceding this, we incorporated an introduction to the work. For the edition we based on manuscript 3.719 of the BNE. Ours is the first edition which lays its foundation on said manuscript. The fact that it is autobiographical makes it the most important of those in Sánchez Barbero's work. To establish the critical apparatus we took into consideration not just the one manuscript but also the existence of an apógrafo and an antígrafo. In the manuscript there is a third part of published poetry. We incorporated to the critical apparatus the variants that said poems present in the edition. Next comes the chapter on Conclusions of our work. Followed by three types of indexes, then the bibliography and finishing with various appendixes that show some certifying documents of various aspects of the biography. From our point of view, the main contribution of our thesis is to expose a manuscript which is mostly unpublished and study it as testimony of Sánchez Barbero's work.
Description
Tesis inédita de la Universidad Complutense de Madrid, Facultad de Filología, Departamento de Filología Latina, leída el 22-01-2016
Collections