Publication:
Desarrollo y validación de un cuestionario que permita medir las diferentes dimensiones de la profesión de enfermería en España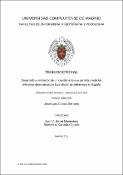 Files
Authors
Advisors (or tutors)
Editors
Publisher
Universidad Complutense de Madrid
Abstract
El análisis de lo que supone una profesión nos puede ayudar a comprender como evoluciona ésta a lo largo de historia y como se ha ido perfilando dentro de la sociedad. A partir del siglo pasado, sobre todo con la revolución industrial se produjo una modificación de la organización social propiciando la creación de tareas profesionales más especializadas. Nuestro estudio de investigación nos pretende acercar un poco más al sentido de la profesión enfermera y nos ayudará a descubrir las "Dimensiones", que la componen. Históricamente la profesión de Enfermería ha recaído en las mujeres, lo que ha conllevado a lo largo de mucho tiempo ciertas connotaciones, que tras la aparición de la figura de Florence Nightingale, se han plasmado en la llamada profesionalización de la Enfermería, cambiando desde ese momento sus paradigmas. Para que una profesión avance necesita de una regulación y una autorregulación moderna y avanzada. España, en los términos citados, se sitúa entre las más vanguardistas a nivel mundial, aun cuando se detectan espacios que aún necesitan de un mayor desarrollo e implementación real. OBJETIVOS Nuestra investigación ha tenido como objetivos: • Elaborar un cuestionario como herramienta, para la descripción y análisis de la situación de la Enfermería española, incorporando una visión y proyección de futuro. • Validar el cuestionario desarrollado...
The analysis of what a profession entails can help our understanding of its evolution throughout history and how it has been being described within society. Since the 19th, particularly with the onset of the industrial revolution there was a social organization adaptation that has enabled the creation of more and new specialized professional tasks as a result of a new advancement of knowledge and division of labor in society. Our research study intends an approach, a little more closely, to the nursing profession meaning and it should help to discover of its "Dimensions". The Nursing profession has been historically a women job lending for a long time to certain gender connotations; nevertheless, after the advent of the figure of Florence Nightingale, the so-called professionalization of nursing took place, changing ever since its practice and education paradigms. As a consequence, in order to assure advancement of a profession it is needed a modern and advanced regulation and self-regulation. Spain, according with the previous cited terms, is placed among the most avant-gardes in the world level, although there are still gaps that need a greater development and real implementation. OBJECTIVES Thus, our research has the following objectives: • Develop a questionnaire as a tool for describing and analyzing the situation of the Spanish nursing, incorporating a vision and future prospects. • Validate the questionnaire developed...
Description
Tesis inédita de la Universidad Complutense de Madrid, Facultad de Enfermería, Fisioterapia y Podología, leída el 19/01/2016
Collections