Publication:
Autoncontrol psicoemocional y rendimiento escolar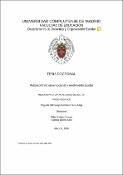 Files
Advisors (or tutors)
Editors
Publisher
Universidad Complutense de Madrid
Abstract
En el presente trabajo de investigación hemos realizado un estudio sobre el "autocontrol psicoemocional" en busca de una nueva alternativa metodológica para mejorar el rendimiento escolar y académico de nuestros niños y jóvenes. Nuestro deseo u objetivo primordial ha sido averiguar la influencia del Programa de Intervención Pedagógica T.A.P.E.F.A. (Técnicas de Autocontrol Psicoemocional Facilitadoras del Aprendizaje) y sus efectos en el rendimiento escolar de alumnos de sexto curso de Educación Primaria. Este diseño de intervención pedagógica se basa en "El Método Silva de autocontrol mental" e "Inteligencia Emocional", con él se pretende iniciar a los alumnos en la capacidad de autocontrolar, gestionar y canalizar sus emociones; acrecentar y desarrollar habilidades mentales para la optimización de la inteligencia en general y favorecer el desarrollo de los diversos factores de la personalidad. Todo ello para que les sirva de base para apoyar sus motivaciones personales en el desempeño de tareas o consecución de logros y que les facilite una relación saludable, respetuosa y solidaria con su entorno. Mediante técnicas concretas, desarrolladas y explicadas en esta investigación, hemos entrenado a un grupo de alumnos para que aprendan a utilizar la mente de manera distinta y especial con el fin de expandirla y potenciar las facultades mentales ("intelectuales y emocionales") que aceleren y mejoren sus aprendizajes. Tanto la selección como la adaptación y elaboración de las actividades para este programa se han encaminado al objetivo de este trabajo de investigación, que es elevar el rendimiento escolar de un grupo de alumnos. Por lo tanto, dentro del amplio abanico de estrategias que ofrece el Método Silva se ha hecho mayor hincapié en técnicas concretas para expandir y acrecentar facultades mentales necesarias para mejorar y acelerar el aprendizaje (potenciadoras de la atención y concentración, la comprensión, la memoria, la creatividad, la intuición, etc…). También se ha prestado especial atención a ejercicios favorecedores de la autoconfianza y la estabilidad emocional (en cuanto a eliminar tensiones y disminuir o bajar el nivel de ansiedad)...
In the present investigation, we have taken the first steps in novel paths of "psycho-emotional self-control" seeking new methodology alternative for improving the school or academic performance of our children and youth. Our desire or primary objective was to determine the influence of Pedagogical Intervention Program T.A.P.E.F.A. (Técnicas de Autocontrol Psicoemocional Facilitadoras del Aprendizaje) in the performance of sixth primary degree students. This design of educational intervention based on "The Silva Method of mental self-control" and "Emotional Intelligence" aims to introduce students in the ability to self-monitor, manage and channel their emotions; enhance and develop mental skills to optimize intelligence in general and encourage the development of several personality factors. All of this to serve as base to support their personal motivations in carrying out tasks or reaching goals and to provide them a healthy, respectful and supportive relationship with their environment. Through particular techniques, developed and explained in this investigation, we have trained a group of students to use the mind in a different and special way in order to expand and strengthen the mental ("intellectual and emotional") powers to accelerate and improve their learning. Selection, adaptation and development activities in this program have been aimed at the goal of this research, which is to raise the academic performance of a group of students. Therefore, within the wide range of strategies offered by the Silva Method, it has been placed greater emphasis on specific techniques to expand and enhance mental faculties needed to improve and accelerate learning (enhancer of attention and concentration, comprehension, memory, creativity, intuition, etc ...). Of course, it has also paid special attention to exercises that favor self-confidence and emotional stability (focused on eliminating or reducing stress and lowering the level of anxiety)...
Description
Tesis inédita de la Universidad Complutense de Madrid, Facultad de Educación, Departamento de Didáctica y Organización Escolar, leída el 02-12-2015
Collections