Publication:
La Argentina durante la Convertibilidad (1991-2002): patrón de acumulación y evolución de la tasa general de ganancia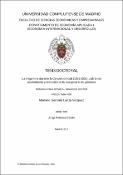 Files
Authors
Advisors (or tutors)
Editors
Publisher
Universidad Complutense de Madrid
Abstract
En la presente investigación se propone realizar un estudio sobre la economía argentina durante el llamado período de la Convertibilidad (1991-2002). Dicha investigación se realizará a partir de la explicación del proceso histórico de la economía argentina, considerando sus características estructurales y los procesos sociales dinámicos a los que está sujeta, teniendo en cuenta los vínculos y las relaciones internacionales existentes. Para ello se tomará el marco teórico general de la economía política marxista, de manera que adquirirá una fuerte centralidad el análisis de la tasa general de ganancia y cómo ésta se relaciona e interrelaciona con la propia dinámica de acumulación de la economía, introduciendo conceptos y herramientas de otras corrientes del pensamiento, que sin contradecir las herramientas teóricas generales adoptadas, permitan ahondar con mayor profundidad sobre las dinámicas específicas de acumulación dentro del capitalismo, tales como los conceptos de formas institucionales y patrón de acumulación. De este modo, se plantea entonces como objeto de estudio de la presente investigación analizar el patrón de acumulación de la Convertibilidad (1991-2002) en la economía argentina, teniendo en cuenta las formas institucionales que se consolidaron en el período y de cómo estas formas institucionales particulares incidieron y fueron incididas por una determinada evolución de la tasa general de ganancia (TGG), produciendo y reproduciendo una particular forma de acumulación del capital, con específicas dinámicas económicas y vínculos externos...
The purpose of this research is to conduct a study about the Argentine economy during the so-called period of Convertibility (1991-2002). It is based on an explanation of the historical processes of the Argentine economy, considering the structural characteristics and dynamic social processes to which the economy is bound, taking into account existing international links and relationships. The general theoretical framework used for this research is the Marxian school of political economics, focusing on an analysis of the general rate of profit and how it relates and interrelates with the very dynamics of accumulation of the economy. Concepts and tools from other schools of thought will also be introduced, without contradicting the general theoretical tools adopted, thus enabling a deeper look into the specific dynamics of accumulation within capitalism, such as the concepts of institutional forms and pattern of accumulation. Thus, the objective proposed by this research is to analyze the pattern of accumulation of the Convertibility Plan (1991-2002) in the Argentine economy, taking into account the institutional forms that were consolidated during said period and how these particular institutional forms had an effect on and were affected by a determined evolution of the general rate of profit (GRP), producing and reproducing a particular form of accumulation of capital, with specific economic dynamics and external links. As the concept of profitability is so important and central to a capitalist economy, let us emphasize that not many studies in Argentina have focused on this subject. Therefore, the estimates and analysis that will be developed herein will not only provide new subjects for discussion about existing studies, but will also contribute to filling the gap on research that have yet to be properly examined in the Argentine economy...
Description
Tesis inédita de la Universidad Complutense de Madrid, Facultad de Ciencias Económicas y Empresariales, Departamento de Economía Aplicada I (Economía Internacional y Desarrollo), leída el 14/01/2016
Collections