Publication:
Propuesta de un modelo explicativo de la efectividad, rendimiento y control estratégico de la red comercial. Una aplicación al sector financiero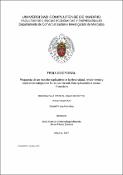 Files
Authors
Advisors (or tutors)
Editors
Publisher
Universidad Complutense de Madrid
Abstract
Propósito de la investigación. Lo que está especialmente en cuestión es si la implantación de un modelo de dirección y control de unidades de negocio fundamentado en comportamientos puede derivar en mayores niveles de rendimiento y logros comerciales de dichas unidades. Diseño. Se utiliza el método del caso, eligiéndose dos entidades financieras referentes de banca universal. Metodología. Tras una primera fase cualitativa a través de entrevistas en profundidad para adecuar las escalas a la realidad del sector financiero, se encuesta a los directores de zona y directores de oficina de ambas entidades acerca de elementos como: el control por comportamientos, el rendimiento comercial de los equipos y la efectividad comercial. Análisis de los datos. Se acometen tres tipologías de análisis. Un primer análisis descriptivo de los datos obtenidos que se centra en describir los principales resultados del estudio de los diferentes ítems a través de los valores medios de las escalas originales utilizadas en la investigación. El segundo análisis, de la entidad 1, tiene como objetivo analizar si la relación entre el comportamiento del director de zona y la efectividad en la oficina se explica por el efecto indirecto que tienen los directores de sucursal y el desempeño comercial de la oficina. Para ello se opta por el análisis de mediación a través de la regresión múltiple. El tercer análisis persigue verificar el efecto mediador, obtenido en el segundo análisis, por medio del análisis de ecuaciones estructurales aplicado la entidad 2...
Research purpose. The main objective of the present research is to test whether the implementation of a behavior-based management control model across bank offices can lead to higher performance levels and business goals accomplishment in the offices that integrate the bank network. Design. The empirical research consists of two financial institutions which are leaders in the Spanish banking sector. Methodology. An initial qualitative phase using in-depth interviews was employed in order to develop the measurement scales and adapt them to the financial sector context; the field directors and branch managers of both entities were surveyed on items such as: behavior based control, sales team behavior performance and sales efficiency. Data analysis. Three types of analysis are undertaken. The first uses descriptive analysis of media differences between participating banks in order to obtain a preliminary explanation of both bank systems and behavior based policies. A second one, using the first of the participating banks, tests the mediation effect between the management based behavior of the field director and the bank's office effectiveness; in other words, the indirect effect that branch managers and that the sales team behavior performance have. To this end, mediation analysis through multiple regression was opted. Finally, a third analysis with data collected from the second participating bank seeks to verify the mediation effect obtained in the second study, using structural equation analysis...
Description
Tesis inédita de la Universidad Complutense de Madrid, Facultad de Ciencias Económicas y Empresariales, Departamento de Comercialización e Investigación de Mercados, leída el 27-10-2015
Collections