Publication:
Procedimiento sancionador de las administraciones independientes de carácter financiero: especial referencia a la CNMV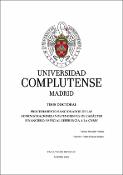 Files
Authors
Advisors (or tutors)
Editors
Publisher
Universidad Complutense de Madrid
Abstract
Los mercados financieros han crecido de manera considerable, entre otras cosas, por la eliminación de muchas de las limitaciones preexistentes. Son varios los factores que han llevado a la globalización de los mercados financieros tales como la reactivación del comercio internacional y con ello el impulso de los mercados financieros a partir de los años sesenta del pasado siglo, así como el posterior incremento de los mercados de divisas, de renta fija y de renta variable, en la búsqueda por las empresas de financiación fuera de sus territorios de origen. Precisamente los Estados han tenido un papel destacado en la progresiva apertura de los mercados, pues por medio de sus ordenamientos jurídicos han dado acceso, en mayor o menor medida, a los capitales extranjeros. La forma en la que lo hagan afecta al desarrollo de los mismos, pues los inversores, grandes y pequeños, buscan de manera primordial la seguridad jurídica y los errores que cometan los legisladores en la regulación de los mercados son penalizados por quienes operan en ellos. La protección de los inversores se ha convertido en piedra angular para el correcto funcionamiento de los mercados financieros y en esta línea se actúa tanto desde los Estados como desde la Unión Europea. El procedimiento administrativo sancionador supone el cierre de la regulación de cualquier sector y otorga seguridad jurídica a quienes intervienen en el mismo, pues garantiza la restauración de las normas que hubieran podido ser violadas. Si en general tiene gran importancia este tipo de procedimientos, en el ámbito de los mercados financieros y de valores desempeña un papel destacado. En efecto, la articulación jurídica de un procedimiento sancionador claro y ágil favorece la confianza de los inversores. Es cierto que el procedimiento sancionador del sector financiero es en gran medida una proyección del procedimiento sancionador general, pero la existencia de normativa específica para el mismo pone de manifiesto la existencia de peculiaridades que conviene analizar. Es, además, una materia que suele tratarse de forma tangencial en la doctrina, al hilo de los estudios sobre el Banco de España y la CNMV o de las potestades que ostentan estas Administraciones independientes...
Financial markets have grown considerably, amongst other reasons because of the elimination of many of the preexisting limitations. There are various factors that have led to the globalization of financial markets such as the increase of International commerce and with it the impetus of the financial markets from of the seventies of the last century onwards, as well as the subsequent growth of currency exchanges, bond markets and equity funds fuelled by financial institutions in their search for markets outside their territories of origin. It is precisely the individual States that have played an outstanding part in the progressive opening of the markets by giving access to foreign capital, to a smaller or larger extent, within their legislative framework. The way they may set about it affects the development of these markets, since investors, whether large or small. Are primarily looking for legal protection and the errors that leg islative bodies commit in e market regulation penalize in some way the market operators. The protection of investors has become a cornerstone to ensure the proper functioning of the financial markets and it is in this spirit that both the States and the European Union are conducting themselves. The administrative sanctions procedures presupposes the closure of regulations of any sector and affords judicial protection for those who invest in it, as it guarantees the restoration of the norms that may have been broken. This type of procedure is of great importance generally but it performs an especially essential role in the field of financial and equity markets. A clear and agile legal structure for sanctioning procedure increases investors' confidence. It is true that the sanctioning procedure in the financial sector is to large extent a reflection of the general sanctioning procedure, but the very existence of specific rules applying to it denotes several peculiar features that deserve an in-depth study. It is in also a matter that is usually touched tangentially by scholars as dealt with in the reports of the Bank of Spain and the CNMV or other independent administrative bodies with powers in this field...
Description
Tesis inédita de la Universidad Complutense de Madrid, Facultad de Derecho, Departamento de Derecho Administrativo, leída el 19/01/2016
Collections