Publication:
El poder de los 140 caracteres: la retórica y el impacto de las redes sociales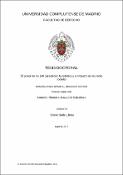 Files
Advisors (or tutors)
Editors
Publisher
Universidad Complutense de Madrid
Abstract
La Sociedad de la Información es un mundo cambiante, en constante movimiento, prolífico en sus innovaciones y en el cual, Internet se convierte en la arteria principal que nos permite gestionar la información. Internet ha supuesto un cambio radical en la forma de gestión del conocimiento y en la forma en la que se relaciona la sociedad, gran impulsor del cambio comunicativo global que se ha producido en las últimas dos décadas. Internet es posible gracias a la conexión, mediante redes informáticas, de un conjunto de ordenadores que permiten y facilitan el intercambio de información entre sí. En este sentido, la unidad básica de información es la Página Web y, al conjunto global de páginas Web se le conoce genéricamente como La Web o World Wide Web. Se considera el padre de La Web, a Timothy John Berners ya que desarrolló los conceptos que hoy en día hacen posible nuestra navegación por Internet. Fue el principal impulsor de los navegadores, que nos permiten visualizar el contenido de las páginas Web y, además, desarrolló los protocolos HTTP y HTLM sin los que no hubiese sido posible un Internet como el que conocemos en la actualidad. En sus inicios, las páginas web eran sitios estáticos donde los cambios en los contenidos y la información únicamente se realizaban por los Administradores que decidían sobre el contenido, finalidad y uso de las páginas web. En la actualidad el uso de las páginas web, de Internet, sufre un cambio significativo. Frente al monopolio de los Webmasters se produce la revolución de los usuarios, fomentado fundamentalmente por los cambios tecnológicos que hacen posible que cualquier usuario pueda generar contenidos en la Red...
The Information Society is a changing world, constantly moving, prolific in innovations and in which the Internet has meant a radical change in the way of management knowledge and the way society relates. Currently the use of websites, Internet, undergoes a significant change. Demands for greater involvement of users favor a new way of understanding the network, a new philosophy, if you want to call it that, that converts multiple profiles into a single profile Internet users with the ability to be a consumer and producer of content. It is what is known as Web 2.0. Concept that is fruit of a change in the attitude of users, users want and demand a collaborative Internet, organized by communities of like‐minded users to theirs. In this sense, language is necessary to highlight one of the great advances of the human being. Our language, gradually has evolved and acquired wealth, meaning well as certain levels of abstraction and complexity that make it possible today, our language has the ability to define everything that the human being is capable of to imagine. Within the language is particularly important dialectic and rhetoric. The latter is particularly relevant in the late nineteenth century and we can say that nowadays, the new rhetoric is being considered as crucial for fields such as philosophy of law, logic or ethics. It was during the decade of 1950‐1960 we find the historical moment in which the rhetoric back to the forefront and makes hand, mainly from Chaim Perelman, rhetoric, logic and philosopher of the Belgian law of Polish origin, was creating along with other thinkers, a new discipline that will be known as new rhetoric or argumentation theory and whose objective is to rehabilitate the classical rhetoric...
Description
Tesis inédita de la Universidad Complutense de Madrid, Facultad de Derecho, leída el 15/01/2016
UCM subjects
Internet (Informática)
,
Comunicación social
Unesco subjects
3325 Tecnología de las Telecomunicaciones
,
6308 Comunicaciones Sociales