Publication:
El principio de justicia universal y su aplicación al delito de piratería. Crónica de una derogación anunciada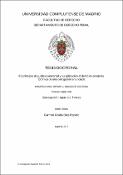 Files
Authors
Advisors (or tutors)
Editors
Publisher
Universidad Complutense de Madrid
Abstract
El Siglo XX ha presentado los más atroces casos de violencia que se registran en la historia de la humanidad. En los últimos cincuenta años han surgido más de 250 conflictos en el mundo; han muerto más de 86 millones de civiles, principalmente mujeres y niños; y a más de 170 millones de personas se les han violado sus derechos, y su dignidad, a pesar de los reglamentos, leyes, tratados y protocolos que prohíben los crímenes de guerra, los crímenes contra la humanidad y el genocidio. La Asamblea General de las Naciones Unidas reconoció por primera vez la necesidad de un mecanismo permanente para enjuiciar los asesinos en masa y los criminales de guerra en 1948, después de los juicios de Nürnberg y de Tokio que siguieron a la II Guerra Mundial. El Tratado de Roma aprobado abrumadoramente por 120 países en la Conferencia de Naciones Unidas el 17 de julio de 1998, marca un trascendental hito en cuanto al reconocimiento de una jurisdicción mundial para juzgar crímenes que violan los Derechos Humanos. Las palabras pronunciadas por FERENCZ en la sala de justicia donde tuvieron lugar los célebres juicios de Nürnberg «Los acusados en el banquillo fueron los verdugos crueles cuyo terror escribió la página más negra de la historia humana. La muerte era su herramienta y la vida su juguete. Si estos hombres quedan impunes, entonces la ley ha perdido su significado y el hombre debe vivir con miedo» constituyen un recordatorio permanente de este principio irrenunciable. Y aunque estamos todavía lejos de poder afirmar que se hayan alcanzado niveles satisfactorios frente a las impunidades cometidas sobre todo en la segunda mitad del siglo pasado, lo cierto es que desde la aparición del llamado Derecho humanitario hasta su consagración en el Siglo XX como principio esencial del Derecho internacional que delimita la competencia de los Estados en el enjuiciamiento de los llamados crímenes internacionales, el principio de justicia universal ha sufrido un notable desarrollo normativo y doctrinal cuyo estudio y comprensión resulta esencial para entender la idiosincrasia de alguno de los procedimientos más relevantes enjuiciados en las últimas décadas y la respuesta jurídico punitiva dada. Los crímenes de Derecho Internacional (agresión, genocidio, crímenes contra la humanidad) responden a tipos que cabe entender ya como consolidados en la actualidad, gracias al esfuerzo hecho para unificar criterios y así para proteger los intereses de la Comunidad Internacional y del individuo , en su papel de inculpado o víctima frente al ordenamiento jurídico internacional. Esta investigación nace con el propósito de dar una visión general del origen y evolución del principio de justicia universal tanto en el plano internacional como nacional y su aplicación al llamado delito de piratería...
The twentieth century has presented the most egregious cases of violence recorded in the history of mankind. In the last fifty years, more than 250 conflicts in the world have emerged. More than 86 million civilians have been killed, mostly women and children; more than 170 million people have violated their rights, and dignity, despite the regulations, laws, treaties and protocols prohibiting war crimes, crimes against humanity and genocide. Although we are still far from being able to affirm that have reached satisfactory levels against the impunity committed particularly in the second half of last century, the fact is that since the emergence of so-called humanitarian law until its consecration in the twentieth century as an essential principle ,International law defines the jurisdiction of the States in the prosecution of so-called international crimes. The principle of universal justice policy has undergone a remarkable doctrinal development and the study and understanding it is essential to understand the idiosyncrasies of one of the most important trial procedures in recent decades and punitive legal response given. However, current events, the threat of international terrorism and other conflicts «veiled » keep reminding the weakness of the international community and the inoperability of the mechanisms of prevention and punishment. From this point of view, the principle of universal jurisdiction is a criteria based solely on the nature of the crime. It means that the effects of acts directed against the interests of the international community are not limited to internal territory of the State in which they are committed. The issue of territorial expansion and competition personnel permitted or required by international law in the case of national prosecuting international crimes is therefore not definitively settled, any cases in which international law requires States to pursue international crimes. From a procedural standpoint, the principles of active and passive protection principle, nationality complete the principle of universal jurisdiction. These principles together with the so-called «hotspots» such as shared legal interest, the principle of passive personality and the implementation of rules of jus cogens, remain a non-preferential basis against the competition of the State where it was committed the offense or of nationality author or victim...
Description
Tesis inédita de la Universidad Complutense de Madrid, Facultad de Derecho, Departamento de Derecho Penal, leída el 15/01/2016
Collections