Publication:
El marco jurídico de los juegos de azar y la incidencia de las nuevas tecnologías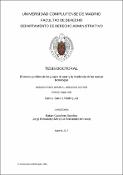 Files
Authors
Advisors (or tutors)
Editors
Publisher
Universidad Complutense de Madrid
Abstract
A lo largo de la historia, los juegos de azar han estado prohibidos y perseguidos en razón al peligro que podría implicar su práctica para el individuo y la sociedad. Sin embargo, en época aún reciente se ha producido una honda transformación respecto a estas actividades, primero con la despenalización del juego en 1977, después con la transferencia en exclusiva de esta materia a las Comunidades Autónomas y por último, con la regulación del juego estatal por medios electrónicos a distancia. Se han suscitado diversos conflictos en la aplicación de la diversa normativa estatal y autonómica y el confuso panorama jurídico, social y económico dista aún de dar una satisfactoria respuesta al gran número de cuestiones que la explotación de los juegos de azar ha planteado desde sus inicios. Entre otros puntos, son cuestiones destacables en esta trayectoria los relativos a la reserva legal de las loterías estatales, en la actualidad bajo la gestión y control público de una sociedad estatal; al periodo transitorio de otorgamiento de las licencias, mientras todavía se debatía la situación de ilicitud de las empresas que habían estado ofertado juegos en línea desde el extranjero sin autorización; la falta de armonización de los países europeos en la regulación de las actividades de juego, determinante de la inaplicabilidad del principio comunitario de la libre prestación de servicios; la dificultad para resolver supuestos en los que aparecen distintas jurisdicciones aplicables, teniendo en cuenta el carácter transfronterizo de estas actividades; la falta de dimensionamiento del juego en la concesión de licencias; el fomento de su práctica mediante constantes actividades publicitarias, en perjuicio de los colectivos más vulnerables; y la dificultad operativa de inspeccionar y controlar en todos los ámbitos territoriales las actividades de juego, limitadora de la eficaz respuesta que sería deseable en la lucha contra los juegos ilegales...
Throughout history, gambling has been banned and persecuted due to the danger it could pose for the individual as well as society. However, in recent time a profound transformation has occurred with respect to these activities, first with the legalization of gambling in 1977, afterward with the transfer of this matter exclusively to the Autonomous Communities and finally, with the gambling State regulation by remote electronic means. Various conflicts have arisen in the implementation of the many state and regional regulations and the confused legal, social and economic situation is still far from achieving a satisfactory response, given the large number of issues that have originated from the exploitation of gambling since its inception. Among other points, there are outstanding issues on this stage concerning those relating to the legal reserve of state lotteries, currently under the management and control of a public state company, the transitional period for granting licenses, even though companies are offering online gambling overseas without authorization, the lack of European harmonization in the regulation of gambling activities, turning ineffective the freedom to provide services in the European Union, the difficulty in solving cases where there are several applicable jurisdictions, considering the cross-border nature of these activities, the inadequate scope of the gambling licences, the promotion of this practice through constant advertising, to the detriment of the most vulnerable groups, and the operational difficulty of inspecting and controlling gambling in all territorial areas, providing an effective response against illegal gambling.In any case, an essential part of this work is the study of remote gambling by electronic means. Its regulation has been attributed to the state level according to the legal framework established by the Spanish Constitution and the Estatutos de Autonomía (the basic statutes for each Spanish Autonomous Community)...
Description
Tesis inédita de la Universidad Complutense de Madrid, Facultad de Derecho, Departamento de Derecho Administrativo, leída el 13/01/2016
Collections