Publication:
El pensamiento político de Josep Torras i Bages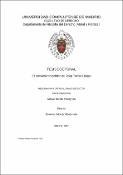 Files
Authors
Advisors (or tutors)
Editors
Publisher
Universidad Complutense de Madrid
Abstract
La presente investigación recorre el marco histórico-social, cultural e ideológico de la Cataluña de finales del siglo XIX y de comienzos del XX, para valorar el alcance y la orientación de la persona y del pensamiento político de José Torras i Bages, quien sería obispo de Vic durante los años 1899-1916. Se valoran los condicionantes y los retos que hubo de afrontar el catolicismo catalán, liderado espiritual e intelectualmente por Torras i Bages. Su obra más reconocida es La tradició catalana (1892). En este autor encontramos una reivindicación de lo que fue la Cristiandad en Cataluña, así como una crítica al Renacimiento, al cesarismo y al liberalismo, de cara a discernir y promover una Renaixença en sentido cristiano. El resultado de la indagación arroja una síntesis del pensamiento político torrasiano, cuya fórmula regionalista se presentó como reacción a la impugnación de la tradición catalana por parte del liberalismo centralista, pero también de la interpretación de la misma por parte del federalismo. Sin perjuicio de constatar la argumentación interna de su doctrina, muy coherente con el magisterio perenne de la Iglesia, se incide en algunos de sus planteamientos en menor continuidad con la propia tradición política española y catalana.
The current investigation subject matter is the social, cultural, historical and ideological context in Catalonia between the end of the nineteenth century and the beginning of the twentieth century, in order to understand the influence on this period of the figure and the political though of Joseph Torras i Bages, who was bishop in the catalan city of Vic from 1899 till 1916. The challenges and determining factors faced by Catalonian Catholicism, who was lead spiritually and intellectually by Torras i Bages, are also considered. His most known work is La tradició catalana (1892). In this author a vindication of Christendom in Catalonia can be found, as well as a critic to the Renaissance, the caesarism and the liberalism, in order to discern and promote a new Christian oriented the Catalan Renaixença. The research achieves a synthesis of the political tough of the author, whose regionalism appeared as a reaction to the challenge the liberal centralism and the federalism interpretation of the Catalonian tradition represented to the real one. Although all the internal argumentation of his doctrine has been check out, a doctrine in line with the everlasting Church teachings, the investigation focuses in some of the ideas that have had less continuity in the Spanish and Catalonian subsequent political traditions.
Description
Tesis inédita de la Universidad Complutense de Madrid, Facultad de Derecho, Departamento de Filosofía del Derecho, Moral y Política I, leída el 22-01-2016
Collections