Publication:
La propiedad en el pensamiento político de Platón: una aproximación filosófica-jurídica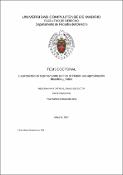 Files
Authors
Advisors (or tutors)
Editors
Publisher
Universidad Complutense de Madrid
Abstract
La filosofía política de Platón está contenida fundamentalmente en su obra cumbre, la República, y se complementa con otros diálogos como el Político, el Sofista y el Prótagoras, también el Timeo y el Critias, mientras que sus planteamientos económicos, los desarrolla y concreta en su última obra las Leyes, que parecen pensadas y escritas para ampliar, además de corregir, lo expuesto en la República, y en la que modifica el papel que deben tener los gobernantes en el gobierno de la polis y otorga mayor importancia a la ley, y en la que admite la propiedad privada, aunque limitada. A través del diseño de su polis ideal o Calípolis, explica y pretende solucionar intelectualmente los problemas que aquejaban el mundo griego de su tiempo. La República, considero que no puede entenderse totalmente, sin tener en cuenta los principios establecidos en su diálogo el Timeo, diálogo que contiene importantes e innumerables ideas de carácter pitagórico, que son las que explican los planteamientos políticos de Platón. Ideas como la de unidad, inmutabilidad, los movimientos cíclicos y la relación y semejanza de las leyes que rigen el cosmos con las que rigen la sociedad y al propio individuo que está considerado como un microcosmos. Son el trasfondo de su idea de justicia. En esa relación de semejanza, la polis sería el elemento que unifica los dos mundos. Sería una estructura triangular constituida por tres elementos, cosmos, polis y ciudadanos, relacionados entre sí por participar de las mismas leyes inmutables. El mundo del cosmos es un modelo que se puede trasladar al mundo social, la idea del movimiento cíclico explica la de la inevitabilidad de los cambios sociales y su transformación y degradación inevitables, de la que no escapa ni su propio sistema político, la aristocracia, tal como sucede en los cambios de las estaciones y en el proceso degenerativo de los cuerpos, elemento material que siempre condiciona el despliegue y la permanencia de las ideas. Por el inevitable movimiento cíclico, la aristocracia degenerará en timocracia, mientras que, cerrando el círculo, a la tiranía, y esa era su esperanza, le sucedería la aristocracia, de la que a su vez por degeneración volverían a derivar todos los demás sistemas políticos en el orden por él establecido, timocracia, oligarquía, democracia y tiranía que se corresponde con la propia evolución histórica de Esparta y Atenas que tuvieron en común la oligarquía, aunque en un momento histórico distinto. También está presente una profunda religiosidad y distinción entre lo inmaterial y lo material, colocando siempre en primer lugar lo invisible, y más próximo a la divinidad, como superior a lo material y esto se concreta de distintas formas, a nivel individual en el cuerpo, a nivel social en la riqueza, o en la idea de respeto a la divinidad, que ya desde el Fedón, también está presente en la República y las Leyes...
The political philosophy of Plato is mainly contained in his masterwork, the Republic. This work is also complemented with other dialogues, such as Statesman, Sophist and Protagoras, also Timaeus and Critias, whereas his economic views, are developed and crystallized in his last work the Laws. These seem to have been thought out and written to extend as well as correct his views pointed out in the Republic, not only modifying the role that leaders should have when ruling the polis, but also, considering that law has a more relevant role, and admitting private property, though with certain limits. Through the design of his ideal polis or Calipolis, he explains and tries to solve the problems the Greek world of his time experienced. I believe that you cannot fully understand the Republic, without taking into account the principles established in his dialogue, Timaeus. This dialogue contains countless and very important ideas of pythagorical design, which explain Platós political views. Among these ideas you find, unity, immutability, cyclical movements and the relationship and similarity of the laws ruling the cosmos and society as well as man himself, who is considered a microcosms. They are the background of his concept of justice. In that similarity relationship, the polis would be the main component which unifies both worlds. It would consist of a triangular structure having three elements, cosmos, polis and citizens, whose relationship would be that the same immutable laws apply to all of them. The world of cosmos is a model that can be applied to the social world, the idea of cyclical movements explain the inevitability of social changes and their unavoidable transformation and degradation of which his own political system, the aristocracy, cannot escape, such as it happens with changes in the seasons and the decaying process of bodies. This is a material element which determines a deployment and permanent presence of ideas. Due to the inevitable cyclical movement, aristocracy will degenerate into timocracy, while closing the circle, he expected that tyranny would be succeeded by aristocracy, by a degeneration of which, all the Political systems, in the order previously established by himself, that is to say, timocracy, oligarchy, democracy an tyranny would appear again. This corresponds with the historical evolution of Sparta and Athens both of which had in common oligarchy, though at a different historical moment. A deep sense of religion and distinction between what is material and immaterial are also present. The invisible things, which are nearer the divinity as they are superior to the material, are always placed first. This is done in different ways, as far as the individual is concerned, in the body, as far as society is concerned, in wealth, the idea of respect for the divinity, which appeared in Phaedo, is also present in the Republic and the Laws...
Description
Tesis inédita de la Universidad Complutense de Madrid, Facultad de Derecho, Departamento de Filosofía del Derecho, leída el 14-01-2016
Collections