Publication:
El carácter militar de las fuerzas policiales en Europa. Especial referencia a a la Guardia Civil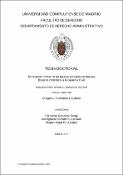 Files
Authors
Editors
Publisher
Universidad Complutense de Madrid
Abstract
Es sabido que en el contexto europeo actual coexisten una serie de Fuerzas policiales que poseen carácter militar. Como Cuerpos policiales que son, realizan las funciones propias cualquier Policía, esencialmente el mantenimiento del orden público y de la paz social, así como la salvaguarda de los derechos fundamentales de las personas. En este sentido, combaten el delito en la amplia gama de modalidades que ofrece en nuestros días. Ello lo consiguen gracias a una diversificación en diferentes Unidades altamente especializadas, que agrupan --- normalmente bajo el control judicial, es decir, constituyendo una Policía Judicial --- desde las dedicadas a los delitos que podríamos denominar como "tradicionales" hasta los de más reciente aparición. La existencia de una Policía con carácter militar en el seno de un Estado moderno, siempre ha estado rodeada de polémica. Se trató de acreditar que la desaparición del carácter militar de la Guardia Civil, implicaría necesariamente la desaparición del mimo Instituto Armado. Ello tendría, en la línea de la investigación emprendida, unas nefastas consecuencias en el ámbito de la seguridad pública en España. Al efecto, se analizó tal polémica desde cuatro puntos de vista: el histórico, el jurídico, el lógico y el policial...
It is well known that in the present European context coexist a number of police forces that have a military character. As police forces they carry out the proper duties of any police, above all the maintenance of the public order and the social peace, as well as the constitutional guarantee of the persons' civil rights. In this sense they combat the crime in its wide range of types that exist these days. They achieve it thanks to a diversity of different highly specialized units which group --- normally under judicial control, i.e. constituting a Judicial Police --- from the ones whose tasks are what we could call "traditional" crimes up to the ones that appeared just recently. The existence of a Police with military character within a modern State has always been surrounded by controversy. It was a question of establishing that the disappearance of the military character of the Guardia Civil necessarily meant the disappearance of the same Armed Institute. In the line of the set up investigation this would have awful consequences in the area of public security in Spain. Indeed this controversy was analyzed from the following 4 points of view: the historical, the legal, the logical and the police ones...
Description
Tesis inédita de la Universidad Complutense de Madrid, Facultad de Derecho, Departamento de Derecho Administrativo, leída el 14/01/2016
Collections