Publication:
Crisis financiera de 2007: ¿Falta de regulación o falta de ética?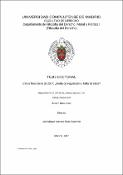 Files
Authors
Advisors (or tutors)
Editors
Publisher
Universidad Complutense de Madrid
Abstract
El estudio de la ética en el entorno de la empresa siempre ha tenido especial interés, dada la importancia de que se lleve a cabo una buena ejecución moral en el ámbito de la organización, así como de cada uno de los individuos que la integran. Es innegable el papel social que juega la empresa, pese a las críticas que recibe el sistema capitalista. Esta ética empresarial conviene observarla, especialmente en los tiempos que corren, en el sector financiero en sentido amplio, pues la crisis del crédito y de las subprime que se fraguó en Estados Unidos en 2007, y que explotó con una virulencia sin precedentes desde el crack del 29, comenzó su ola expansiva en el año 2008 con una crisis económica y financiera de profunda huella social. Y son muchas las voces que se preguntan si se podría haber evitado habiendo tenido mejores y mayores medios de regulación y supervisión, o puesto extrema vigilancia de los estándares éticos en las empresas, en especial a las que operan o intermedian en los mercados de capitales y de crédito. Es por este motivo por el que la presente tesis gira en torno a un trabajo de campo, que parte de una encuesta al público profesional general, y de cuyos resultados se extrapolan los resultados de aquellos empleados del sector financiero, con el fin hacer un diagnóstico claro de la percepción que tienen sobre el clima ético dentro de sus organizaciones, de saber si son capaces de discernir las conductas éticas de las que no lo son, y de valorar con qué cadencia se producen las conductas no éticas...
The study of ethics in the business world has always been of special interest, given the importance of good moral performance both within the sphere of an organisation, and by each of the individuals that form part of it. The social role that business plays is undeniable, despite the criticism levelled at the capitalist system. It is advisable, particularly in the present times, to observe these business ethics in the financial sector in general, because the credit and subprime crisis that was forged in the United States in 2007 and exploded with a virulence that had not been seen since the crash of 29 sent out a shockwave in 2008 in the form of an economic and financial crisis that had a profound social impact. And there are many who wonder whether it could have been avoided if there had been greater and better means of regulation and supervision in place, or if the ethical standards of businesses had been subject to strict monitoring, particularly those operating or dealing on the capital and credit markets. It is for this reason that the focal point of this thesis is fieldwork based on a survey of the professional population in general from which the results of financial sector employees have been extrapolated with the aim of making a clear diagnosis of how they perceive the ethical climate in their organisations; finding out whether they are able to distinguish between ethical and non-ethical conduct; and assessing how frequently non-ethical conduct occurs...
Description
Tesis inédita de la Universidad Complutense de Madrid, Facultad de Derecho, Departamento de Filosofía del Derecho, Moral y Política I (Filosofía del Derecho), leída el 14-12-2015
Collections