Publication:
Investigación de regiones cromosómicas de interés mediante arrays de CGH en el cáncer colorrectal de aparición temprana (≤45 años) y en el del anciano (≥70 años)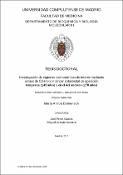 Files
Authors
Advisors (or tutors)
Editors
Publisher
Universidad Complutense de Madrid
Abstract
En España, el cáncer colorrectal (CCR) constituye la tercera neoplasia más común en varones (tras los cánceres de próstata y pulmón) y la segunda en mujeres (tras el cáncer de mama). Es causado por la acumulación progresiva de alteraciones genéticas y epigenéticas que convierten la mucosa colónica normal, en hiperplásica o adenomatosa (con los diversos tipos evolutivos: tubular, túbulo-velloso y velloso), cáncer "in situ" y finalmente cáncer invasor. Este proceso, conocido como "secuencia adenoma-carcinoma", requiere algunos años para la formación del tumor. Actualmente se conocen tres vías principales de carcinogénesis: la vía de inestabilidad cromosómica (INC) o vía supresora, la vía de inestabilidad de microsatélites (IMS) o vía mutadora, y la vía del fenotipo metilador de islas de CpG. El CCR en el adulto joven (edad de diagnóstico ≤45 años) constituye una entidad poco frecuente (2-8% de todos los CCR) que no sólo engloba casos hereditarios, de hecho, las mutaciones germinales únicamente son responsables de una pequeña parte de ellos. Los tumores de inicio temprano habitualmente presentan características clínicas y pronósticas más desfavorables que sus homólogos diagnosticados en adultos ancianos (edad de diagnóstico ≥70 años), por lo que algunos autores han sugerido la existencia de diferentes mecanismos moleculares en función de la edad de inicio de la enfermedad. Teniendo en cuenta la relevancia que los cambios en la dosis génica ejercen sobre el proceso de oncogénesis, herramientas como los arrays de hibridación genómica comparada (a-CGH) podrían ser de gran utilidad en la búsqueda e identificación de loci específicamente relacionados con la edad. En el presente trabajo hemos realizado un análisis descriptivo comparativo de las características clínicas, anatomopatológicas, evolutivas y familiares asociadas a las neoplasias colorrectales de adultos jóvenes y ancianos. Asimismo, hemos evaluado la frecuencia de tumores con IMS y la proporción de neoplasias asociadas al síndrome de Lynch (SL) en cada una de las poblaciones...
In Spain, colorectal cancer (CRC) is the third most frequent neoplasm in men (after prostate cancer and lung cancer) and the second most frequent neoplasm in women (after breast cancer). It is caused by a progressive accumulation of genetic and epigenetic alterations that lead to the transformation of normal colonic epithelial cells into colon adenocarcinoma cells, in a process called the adenoma-carcinoma sequence. Three distinct mechanisms of genomic instability may be operative in CRC: chromosomal instability (CIN) also known as the "suppressor" pathway, microsatellite instability (MSI) also known as the "mutator" pathway and CpG island methylator phenotype (CIMP). Although young age at diagnosis (≤45 years old) is a characteristic of hereditary forms of cancer, early-onset CRC can also be sporadic. Because of the low frequency of CRC in young people (2-8%), sporadic early-onset tumors remain still poorly characterized. In comparison with late-onset CRC (patients ≥70 years old at the time of diagnosis), sporadic early-onset tumors are more frequently associated with poor prognosis, invasive phenotype, early metastasis, and familial clustering, and patients with such tumors are in general considered as a high-risk group within CRC. It has been proposed that early-onset and late-onset CRC might evolve in distinct ways, and that there may be a different molecular basis for each age at onset. For this reason, copy number alterations (CNAs) detected by array comparative genomic hybridization (a-CGH) may contribute to the identification of specific altered loci that might include important genes for tumor progression in the different age groups. In this work, we have performed a comparative descriptive analysis of clinical, pathological and familial features associated with early-onset and late-onset CRC. We have also evaluated the frequency of MSI tumors and the proportion of neoplasms associated with Lynch syndrome (LS) in each population. Moreover, we have addressed the characterization of genomic changes in early-onset and late-onset tumors in order to compare them to each other and define the CNAs potentially common and/or specific to each age group. Finally, we submitted the results to an unsupervised analysis...
Description
Tesis inédita de la Universidad Complutense de Madrid, Facultad de Medicina, Departamento de Bioquímica y Biología Molecular III, leída el 18/12/2015
Collections