Publication:
Caracterización de las células mesenquimales del paquete adiposo de Hoffa en pacientes con diferente grado de afectación articular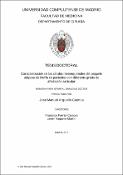 Files
Authors
Advisors (or tutors)
Editors
Publisher
Universidad Complutense de Madrid
Abstract
Desde la antigüedad es conocida la problemática que ocasionan las lesiones condrales y su dificultad de tratamiento por el escaso poder reparativo que presenta el cartílago. Hoy día son muchas las técnicas, algunas de ellas de complejidad y coste muy elevados, que tratan de dar solución a esta situación, dando idea de la magnitud del problema al que nos enfrentamos. El gran caballo de batalla al que nos enfrentamos en la lucha contra la degeneración articular o artrosis, no es otro que tratar de actuar en fases tempranas de la enfermedad en las que aún el proceso pudiera ser reversible. Es por ello que se dedica un gran esfuerzo al diagnóstico precoz de la enfermedad, con medios diferentes a los tradicionales (Rx), como son la RMN, artroscopia, etc. Sin embargo, la situación actual nos lleva un punto más allá en el tratamiento temprano de la artrosis, actuando en fase preclínica, a nivel molecular y celular. Fruto de esta preocupación, gran cantidad de factores de crecimiento, citoquinas y metaloproteinasas han sido descubiertos como integrantes del puzle bioquímico de la artrosis, sin que hasta la fecha conozcamos el factor determinante a controlar para evitar la degeneración articular...
The problems provoked by chondral lesions and their difficult treatment, which is due to the low reparative capacity of cartilage tissue, have been well known since ancient times. Nowadays there are many techniques which try to solve this huge problem, but some of them very complicated and expensive. The biggest difficulty we find when we treat osteoarthritic patients is acting in the earliest phases of this illness, when it is still reversible. This is the reason why we use nonusual diagnostic tools as MRI (magnetic resonance imaging) or arthroscopy, in order to get the earliest diagnosis. Nevertheless, current scientific research tries to reach a preclinical diagnosis by looking at the cells and their molecules. Therefore, a number of growing factors, cytokines and MMPs have been discovered recently, but none of them has become the desired angular stone able to control the whole degenerative process. At this point, we wonder what the role of the knee intraarticular structure but extrasinovyal, known as Hoffás fat pad is, which we know is full of MSC and biomarkers. However, its role as an arthritic modulator has not been studied well yet, neither in terms of the factors expressed during the differentiation process from MSC to chondrocytes nor in terms of the effect of the osteoarthritic synovial fluid over these cultures...
Description
Tesis inédita de la Universidad Complutense de Madrid, Facultad de Medicina, Departamento de Cirugía, leída el 08/02/2016
Collections