Publication:
Utilidad de la perfusión por resonancia magnética con contraste potenciada en T1 en la valoración de la Neoplasias de SNC y cambios inducidos en la médula ósea de columna vertebral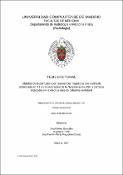 Files
Authors
Advisors (or tutors)
Editors
Publisher
Universidad Complutense de Madrid
Abstract
Las fracturas vertebrales por compresión en la columna torácica o lumbar son un problema común en la práctica clínica diaria, sobre todo en pacientes de edad avanzada. La osteoporosis es la causa más común de fracturas por compresión en este grupo de edad. Sin embargo, la columna vertebral es también un lugar frecuente de metástasis y neoplasias primarias que pueden resultar en fracturas patológicas. Por lo tanto, diferenciar entre las fracturas de etiología maligna de las fracturas benignas debidas a la osteoporosis puede ser un reto, especialmente entre los pacientes con cáncer, propensos a desarrollar ambos tipos de fractura. Las fracturas vertebrales son un problema muy común en este tipo de pacientes, los cuales pueden recibir un tratamiento a largo plazo de esteroides, quimioterapia y/o radioterapia, y que con frecuencia asocian un déficit nutricional, todos ellos factores, junto con la edad avanzada, que afectan la densidad ósea. La mayoría de los tumores metastásicos, así como las neoplasias primarias tales como el mieloma múltiple, se caracterizan por la presencia de lesiones osteolíticas que presentan una menor densidad ósea y una debilidad estructural ósea. Además, ciertos regímenes de tratamiento, como los basados en el bloqueo de hormonas sexuales como los estrógenos en el cáncer de mama, también puede afectar a la homeostasis mineral ósea...
Vertebral compression fractures in the thoracic or lumbar spine are a problem commonly encountered in daily clinical practice, particularly in elderly patients. Osteoporosis is the most common cause of compression fractures in this age group. However the spine is also a frequent location of metastatic and primary neoplastic disease that may result in pathologic fractures. Therefore differentiation between malignant from benign fractures due to osteoporosis can be challenging, especially among cancer patients who are prone to developing both types. Vertebral fractures are a very common concern in this cohort of patients who may be subject to long term use of steroids, chemotherapy, radiotherapy and frequently present with poor nutrition in addition to advanced age, factors that affect bone density. Most metastatic tumors as well as primary neoplasms such as multiple myeloma are characterized by the presence of osteolytic lesions presenting with decreased bone density and osseous structural weakness. Besides certain treatment regimens, for instance blocking sex hormones such as estrogen in breast cancer, can also affect bone mineral homeostasis. All these circumstances put these patients at higher risk for vertebral fractures. Magnetic resonance imaging (MRI) is a method for the detection and evaluation of bone-marrow pathologies to the point of becoming the imaging modality of choice for marrow metastatic disease...
Description
Tesis inédita de la Universidad Complutense de Madrid, Facultad de Medicina, Departamento de Radiología y Medicina Física, leída el 24-02-2016
Collections