Publication:
Citocompatibilidad de tejidos cardiacos humanos decelularizados con detergentes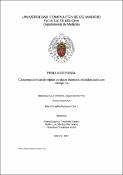 Files
Authors
Advisors (or tutors)
Editors
Publisher
Universidad Complutense de Madrid
Abstract
La insuficiencia cardíaca (IC) es una patología de mal pronóstico muy prevalente en todo el mundo, con más de 20 millones de afectados a nivel global, estimándose que aproximadamente el 50% de los pacientes habrán fallecido en los siguientes 5 años tras el diagnóstico. El trasplante cardíaco (TC) es el tratamiento definitivo en la fase final de la enfermedad pero su aplicación está limitada por la escasez de donantes. Los dispositivos de asistencia ventricular son una alternativa al TC pero tampoco están exentos de complicaciones. El diseño de tejidos bioartificiales que puedan reparar o sustituir miocardio dañado es una opción terapeútica teórica en estos pacientes. En el año 2008 Ott y Taylor demostraron que es posible obtener una matriz extracelular tridimensional decelularizada (MECd) de un corazón completo de rata mediante la perfusión anterógrada de detergentes a través del sistema vascular del órgano. La matriz acelular resultante conserva la estructura tridimensional así como los componentes extracelulares del órgano. Otros investigadores han reproducido estos resultados en varios modelos murinos y de cerdo. Con estos precedentes formulamos la hipótesis de que la decelularización con detergentes iónicos (Dodecil Sulfato de Sodio, SDS) aplicada a tejidos cardíacos humanos permite crear matrices extracelulares decelularizadas que constituyen un armazón tridimensional, perfundible y citocompatible donde es posible la supervivencia y ordenación de células maduras y la supervivencia, ordenación y maduración de células progenitoras...
Heart failure (HF) syndrome is a common cardiac condition, with more than twenty million people affected worldwide. Despite improvements in medical and device therapy, the prognosis remains poor, and cardiac transplantation is considered the definite treatment for end-stage HF though this therapy is actually limited by donor availability and inmunorejection. A possible solution is the development of engineered cardiac tissue that can replace damaged myocardium or induce endogenous cardiac repair. In 2008 Ott and Tayloŕs group showed that a tridimensional whole - heart matrix scaffold could be generated by removing all cells from a murinés heart. For that purpose they carried out antegrade coronary perfusion with detergents. The acellular scaffold had intact chamber geometry and perfusable vascular architecture. These contructs were resseded with cardiac and endothelial cells. Other investigators have reproduced these results in several murine models and pig hearts. We hypothesized that a decellularization protocol with detergents in human cardiac tissues might produce a decelularized three-dimensional and perfusable extracellular scaffold that can be reseeded with cells. Survival and alignment of endothelial cells, cardiomyocytes and stem cells is possible within the heart human matrix. The extracellular matrix also enhances stem cell differentiation. For that purpose we have decellularized 39 cadaveric human hearts with sodium-docecylsulfate (SDS) for 4-8 days. The hearts were perfused via antegrade flow through the ascending aorta. Cell removal and architectural integrity were determined anatomically, functionally, and histologically. To asess cytocompatibility, we cultured human umbilical vein endothelial cells (HUVECs), H9c2 and HL-1 cardiomyocytes, human cardiac-progenitor cells (hCPC), and human bone-marrow mesenchymal cells (hBMSCs) in vitro on decellularised ventricles up to 21 days. We also cultured HUVEC cells and hBMSCs on decellularised aortic valves up to 6 days. Cell survival, alignment and organization were analysed both in ventricles and aortic valves. Gene expression and electrical coupling were analysed in recellularised ventricles and compared to conventional 2-dimensional cultures...
Description
Tesis inédita de la Universidad Complutense de Madrid, Facultad de Medicina, Departamento de Medicina, leída el 09-02-2016
Collections