Publication:
Análisis comparativo de las complicaciones quirúrgicas en un programa de donación renal en asistolia no controlada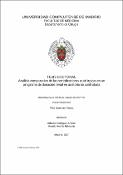 Files
Authors
Advisors (or tutors)
Editors
Publisher
Universidad Complutense de Madrid
Abstract
La insuficiencia renal crónica (IRC) es una enfermedad con una importante incidencia y prevalencia en nuestro país, que conlleva un marcado deterioro de la calidad de vida, una elevada morbimortalidad y una gran carga económica para el sistema sanitario. El tratamiento de dicha condición es la terapia renal sustitutiva, bien con diálisis o con trasplante renal. El mejor tratamiento para los pacientes con IRC terminal es el trasplante de riñón, con beneficios a largo plazo tanto en supervivencia como en calidad de vida en comparación con la diálisis, así como en términos económicos. La consecuencia de estos buenos resultados ha sido un crecimiento sin precedentes en la demanda de órganos, lo que ha conducido a un incremento en las listas de espera para recibir un trasplante renal. Los órganos procedentes de donantes cadáver se dividen, según la causa de fallecimiento del donante, en muerte encefálica y asistolia. Desde la expansión de la donación en muerte encefálica en la década de los 70, ha existido cierta reticencia al empleo de órganos de asistolia, por factores como la fase de hipotensión subsecuente a la parada cardíaca del donante, lo cual conlleva un mayor riesgo isquémico para estos riñones...
Chronic kidney disease (CKD) is a disease with a significant incidence and prevalence in our country, leading to a severe impairment in the quality of life, high morbidity and mortality and a major economic burden on the health system. The treatment of this condition is renal replacement therapy, either dialysis or kidney transplant. The best treatment for patients with CKD is kidney transplantation, with long-term benefit in both survival and quality of life compared to dialysis, and in economic terms as well. The consequence of these results has been unprecedented growth in the demand for organs, which has led to an increase in waiting lists to receive a kidney transplant. Organs from dead donors are divided, depending on the cause of death, in donors after brain death (DBD) and donors after cardiac death (DCD). Since the expansion of DBD in the 70s, there has been some reluctance to use kidneys from DCD, by such factors as the hypotension phase that takes place after the donor's cardiac arrest, which carries an increased ischemic risk for this sort of kidneys. However, in the last two decades the use of DCD kidneys has become popular so as to reduce waiting lists for transplantation with different strategies. In Spain uncontrolled DCD (uDCD) –in which cardiac arrest happens outside the hospital– is widespread, unlike most other countries, where the most usual source of DCD kidneys is controlled DCD (cDCD) –cardiac arrest happening to a patient admitted to the hospital–...
Description
Tesis inédita de la Universidad Complutense de Madrid, Facultad de Medicina, Departamento de Cirugía, leída el 01-12-2015
Collections