Publication:
Cáncer diferenciado de tiroides. Tratamiento quirúrgico. Asignación de grupos de riesgo y análisis de supervivencia (Estudio uni y multivariante)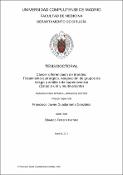 Files
Advisors (or tutors)
Editors
Publisher
Universidad Complutense de Madrid
Abstract
Antecedentes: Se han identificado numerosos factores pronóstico del cáncer diferenciado de tiroides con los que se han diseñado sistemas de asignación de riesgo para seleccionar su tratamiento. Objetivo: Evaluar la utilización varios diferentes sistemas de asignación de riesgo en pacientes operados por cáncer diferenciado de tiroides. Material y Métodos: Estudio retrospectivo de 232 pacientes con cáncer diferenciado de tiroides tratados en nuestro Hospital de 1991 a 2014, clasificados con el sistema pTNM (7ª Edición, 2010). Se calculó el grupo de riesgo acorde a los sistemas MACIS, AGES, AMES y ATA analizándose la supervivencia y las recurrencias de acuerdo al riesgo Se realizaron 200 cirugías en un solo tiempo quirúrgico y 32 cirugías de totalización; 201 (86,6%) tiroidectomías totales, 11 (4,7%) tiroidectomías subtotales y 20 (8,6%) hemitiroidectomías con istmectomía, asociándose linfadenectomía del compartimento central y/o lateral del cuello en 113 (48,7%) casos. Se calcularon las curvas de intervalo libre de enfermedad, mortalidad relacionada y no relacionada con el tumor tiroideo, edad, sexo, tipo histológico, clasificación y supervivencia actuarial de Kaplan-Meyer, significación estadística y la prueba de Wilconson para la comparación de datos patológicos. Resultados: El análisis estadístico de los 232 pacientes operados, con un seguimiento de 1 a 23 años (media = 7,83 años), pone en evidencia una mortalidad total de 15 casos (6,46%), y una mortalidad relacionada con el cáncer de tiroides de 6 casos (2,58%). %). La supervivencia global a 5, 10 y 20 años fue del 96%, 93% y 84% respectivamente, con una supervivencia media libre de enfermedad de 18,5 años (rango 1-23 años) y una media de supervivencia de 16,019 años. En el análisis multivariante, las variables que afectaron el pronóstico, con respecto a la supervivencia global, fueron: el tamaño tumoral > 4 cm., tipo histológico Tall-cell, grado tumoral, afectación ganglionar, invasión de partes blandas e invasión vascular. El porcentaje de pacientes de alto riesgo, según el sistema AGES, fue del 23,2%, según el sistema MACIS del 5,6%, según el AMES del 27,2% y del 5,2% para el sistema ATA. Este estudio muestra que entre el 60 y el 80% de nuestros pacientes son de bajo riesgo. (MACIS: 82,3%; AGES: 76,2%; AMES: 72,8% y ATA 59,9%). Conclusión. Los sistemas MACIS, AGES, AMES y ATA son útiles para asignar el riesgo en nuestra población, pero es necesario familiarizarse con su uso, para seleccionar la agresividad de la terapéutica en cada caso en particular.
Background: Many risk factors have been identified in differentiated thyroid cancer; with these in mind, some prognostic scores have been designed to assign risk of recurrence and survival. Objective: To evaluate usefulness of different methods of risk assignment in differentiated thyroid cancer in surgical patients Material and Methods: This is a retrospective review of 232 patients with differentiated thyroid cancer treated in our hospital full of 1991-2014, ranked the pTNM system (7th edition, 2010). Was calculated according to risk group MACIS, AGES, AMES and ATA systems. Correlation of recurrences and survival was carried out according to score or risk assignment. 200 surgeries were performed in one surgery and 32 surgeries totalization, 201 (86, 6%) total thyroidectomy, 11 (4.7%) subtotal thyroidectomy and 20 (8.6%) with isthmectomy hemithyroidectomies, partnering lymphadenectomy of the central compartment and side of the neck in 113 (48, 7%) cases. Curves were calculated disease-free interval, mortality related and not related to the thyroid tumor, age, sex, histological type, grading and survival Kaplan-Meyer actuarial, statistical significance and Wilconson test for comparison of pathological data. Results: Statistical analysis of 232 operated patients followed for 1-23 years (mean = 7.83 years), reveals a total mortality related and unrelated thyroid cancer 15 cases (6,46 %), mortality related to thyroid cancer 6 cases (2,58%), overall survival at 5, 10 and 20 years of 96%, 93% and 84% and a median disease-free survival of 18, 5 years (range 1-20 years) with a mean survival of 16,019 years. In the multivariate analysis, the variables that affected the prognosis with respect to overall survival were: tumor size> 4 cm., Tall-cell histologic type, tumor grade, lymph node involvement, invasion of soft tissue and vascular histology. According to the system AGES 23,2% were high risk, to the MACIS 5,6%, 27,2% to the AMES and 5,2% to the ATA. This study shows that between 60 and 80% of our patients are low risk. (MACIS: 82,3%; AGES: 76,2%; AMES:72,8% and ATA 59.9%). Conclusion: MACIS, AGES and AMES systems are useful for allocating risk in our population, but it is necessary to become familiar with its use to select the aggressiveness of therapy in each case.
Description
Tesis inédita de la Universidad Complutense de Madrid, Facultad de Medicina, Departamento de Cirugía, leída el 15/01/2016
Collections