Publication:
Representaciones del emigrante en el cine portugués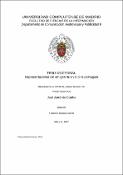 Files
Authors
Advisors (or tutors)
Editors
Publisher
Universidad Complutense de Madrid
Abstract
Esta investigación propone que las representaciones de los emigrantes en el cine portugués se hacen en las cercanías del referente de la realidad. En un primer momento se hace un recorrido sobre la teoría sociológica de la emigración a respecto de la emigración portuguesa para percibir como se configura el fenómeno, cuales son sus principales cuestionamentos y que perfiles pueden asumir los emigrantes portugueses individualmente, pelo especialmente, enquanto grupo. ¿Cuál es la história de la emigración portuguesa? ¿Cuáles son los destinos privilegiados en las várias olas de emigración al largo de los años? ¿Qué circunstáncias llevan los portugueses a emigrar? ¿En que condiciones se instalan? ¿Cómo se integran en las sociedades de acojimiento? ¿Cómo se establecen las relaciones en el seno de las comunidades portuguesas? A la hora de cuestionarnos sobre la prevalencia de un referencial de realidad en el abordaje del cine de ficción sobre el tema de la emigración portuguesa, este conjunto de preguntas y sus subsecuentes respuestas, se establece como un perfil de ese referencial de realidad. La proximidad de la ficción cinematográfica a la realidad será la proximidad a esta caracterización sociológica del fenómeno. La lectura final de las pelíciulas se hace a partir de un modelo que privilegia la dimensión tangible de la película. Se utiliza un instrumento de análisis que resulta, en sus pilares, de las teorías de Seymour Chatman y David Bordwell a respecto del análisis fílmico...
This investigation suggests that emigrant representations on portuguese cinema are anchored on real life experience being this experience carried out by sociological studies. We shall begin with an overlook of the sociological theory on portuguese migration for the clear understanding of the phenomena. We have mapped the main issues rekating to the subject and the main characteristics of the portuguese emigrants – whether as individuals or as a group. Which has been the history of portuguese migration movements? Where did they head for? In which circumstances did they decide to leave? Which conditions did they manage to create at their arrival in the host countries? What kind of relations had been created between portuguese communities? This set of questions is the one to be used when questioning the real life reference to portuguese fiction films on emigration. The relation between fiction films and reality shall be assessed by the acquired sociological knowledge. The film analisys grounds on a model that gives preference to the tangible elements of the film. The tools for the analisys shall be though built upon Seymour Chatman and David Bordwell's film and narrative theories. We have distinguished two groups of films; (1) those representing portuguese emigrants in Portugal and; (2) those representing them abroad, at their host countries...
Description
Tesis inédita de la Universidad Complutense de Madrid, Facultad de Ciencias de la Información, Departamento de Comunicación Audiovisual y Publicidad II, leída el 15-01-2016
Collections