Publication:
Analysis and physical interpretation of ionosferic plasma irregularities effect on positioning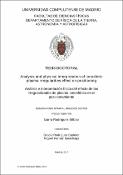 Files
Authors
Advisors (or tutors)
Editors
Publisher
Universidad Complutense de Madrid
Abstract
The ionosphere is one of the largest sources of error in the GNSS (Global Navigation Satellite System) positioning not only because the ionospheric refraction can induce errors of several meters in the satellite-receiver signals ranges but also due to the frequent occurrence of plasma density irregularities that lead to signal degradation when crosses them. The effect of the ionospheric irregularities on GNSS signals can be quantified by estimating the TEC (Total Electron Content) from dual frequency GNSS observations. At mid-latitudes it is expected that TEC values vary smoothly in the quiet periods whereas large electron density irregularities occurrence will be related to magnetic storms and other Space Weather phenomena. On the other hand, the physical characteristics of the ionosphere at low magnetic latitudes induce, among other phenomena, the appearance of a peculiar kind of irregularities known as equatorial plasma bubbles (EPBs) which are characterized by TEC depletions. The difference in the physics of the ionosphere at low-latitudes and mid-latitudes marks one of the fundamental guidelines of this Doctoral Thesis and the ROT (Rate of change of TEC) parameter is introduced to evaluate the changes in the electron content over time. In the case of positioning performed using dual-frequency receivers, the error introduced by the ionosphere can, in first approximation, be eliminated by the correction known as "ionospheric-free combination" (iono-free). However, significant errors in the height estimated by Precise Point Positioning (PPP) has been observed in the presence of strong variation in the ROT...
La ionosfera constituye una de las mayores fuentes de error en el posicionamiento GNSS (Global Navigation Satellite System) no sólo debido al hecho de que la refracción ionosférica puede introducir errores de algunos metros en las medidas de distancia satélite-receptor, sino también a la frecuente aparición de irregularidades en la densidad de plasma que dan lugar a degradaciones de las señales electromagnéticas que las atraviesan. El efecto de las irregularidades ionosféricas sobre las señales GNSS se puede cuantificar por medio de la estimación del TEC (Total Electron Content) a partir de observaciones de señales en doble frecuencia. En latitudes medias se espera que los valores de TEC varíen de una forma suave en los periodos tranquilos mientras que la presencia de irregularidades importantes está relacionada con tormentas magnéticas y otros fenómenos significativos de la Meteorología Espacial. En cambio, las características físicas de la ionosfera a bajas latitudes magnéticas inducen, entre otros fenómenos, la aparición de un tipo peculiar de irregularidades conocidas como burbujas de plasma ecuatorial (EPBs) que se caracterizan por disminuciones bruscas del TEC. La diferencia en la física de la ionosfera para bajas y medias latitudes marca una de las pautas fundamentales de este trabajo en el que se utiliza el parámetro ROT (Rate Of change of TEC) para evaluar las variaciones del contenido electrónico con el tiempo. En el caso del posicionamiento realizado mediante receptores de doble frecuencia, el error introducido por la ionosfera puede ser eliminado en primera aproximación mediante la corrección conocida como "combinación libre de ionosfera". Sin embargo, se ha observado la presencia de errores significativos en la altura obtenida mediante el Posicionamiento Puntual de Precisión (PPP) bajo condiciones de fuerte variación del ROT...
Description
Tesis inédita de la Universidad Complutense de Madrid, Facultad de Ciencias Físicas, Departamento de Física de la Tierra, Astronomía y Astrofísica I (Geofísica y Meteorología) (Astronomía y Geodesia), leída el 27/06/2016
Collections