Publication:
La ficción de hechos reales: análisis de procesos de ficcionalización de hechos reales e históricos en el relato audiovisual literario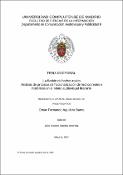 Files
Authors
Advisors (or tutors)
Editors
Publisher
Universidad Complutense de Madrid
Abstract
Esta tesis doctoral tiene por objeto analizar los procesos creativos de transposición y transmutación de hechos y personajes reales e históricos a la ficción. Dicho objeto está acotado y sus partes definidas. La primera fuente de información fue la escritura del primer Capítulo o Piloto, 71 págs., del proyecto de guión, Allende – Basado en hechos reales, serie histórica de 10 capítulos que estoy escribiendo para su producción. La acción en el Piloto está ambientada en Chile, 1908 – 1930 y su fuente principal de información ha sido el estudio en profundidad de 14 autores, un historiador, una novelista, un ensayista y 11 biógrafos. La elección del objeto de estudio estuvo motivada por mi experiencia profesional como actor, dramaturgo y director de una veintena de obras teatrales basadas en hechos reales estrenadas en España. La Primera Parte menciona que tal experiencia contribuyó al análisis del objeto desde al menos seis perspectivas: relación entre dos relatos literarios basados en hechos reales -texto dramático y guión audiovisual-, relación entre guión y sus lectores técnicos, relación entre los mundos simbólicos del guión y del film, diferencia de códigos entre teatro y cine y su influencia en el relato audiovisual literario, adaptación de textos dramáticos basados en hechos reales a relatos audiovisuales literarios y preservación del relato audiovisual literario en la película real. El objeto de estudio es un proceso creativo en estado embrionario que culmina en un producto que se exhibe ante un público. Desde esta óptica, considero que dicho objeto tiene especial interés científico en cinco áreas del conocimiento: historia, sociología, psicología, pedagogía y lingüística. Las primeras reflexiones sobre la hipótesis general del estudio -los hechos reales e históricos tratados por el guionista pierden su carácter primigenio para convertirse en material de la imaginación- invitaron a explorar una segunda hipótesis: los procesos creativos transforman los datos ofrecidos por la realidad histórica...
The objective of this doctoral thesis is to analyse the creative process of transposition and transmutation of real historical characters and events into fiction. This subject is delimited and its parts are defined. The principal source was the first episode or pilot, 71 pages, of the script planning of Allende – Based on real events, a 10 episode historical series that I'm writing to be performed. The action of the pilot takes place in Chile, 1908-1930, and its principal source material has been the in-depth study of 14 authors, an historian, a novelist, an essayist and 11 biographers. The choice of the subject to study was motivated by my experience as an actor, playwright and director of nearly twenty plays based on real facts, which were released in Spain. The First Part mentions that this experience contributed to the analysis of the subject from at least six different perspectives: literary relationship between two stories based on real fact (dramatic text and audiovisual script), the relationship between script and technical readers, the relationship between the symbolic worlds of the script and the film, difference of codes between theatre and cinema and its influence on the literary-audiovisual script, adapting dramatic texts based on real stories to script and preservation of script in the real film. The subject of study is a creative process at an early stage that culminates in a product that is performed to an audience. From this perspective, I believe that the subject is of particular scientific interest in five areas of knowledge: history, sociology, psychology, education and linguistics. The first reflections on the general hypothesis of the study -the historical and real facts treated by the screenwriter lose their original character to become a product of the imagination- invited me to explore a second hypothesis: the creative processes transform data provided by historical reality...
Description
Tesis inédita de la Universidad Complutense de Madrid, Facultad de Ciencias de la Información, Departamento de Comunicación Audiovisual y Publicidad II, leída el 26-10-2016
Collections