Publication:
El simbolismo del castillo en la iconografía medieval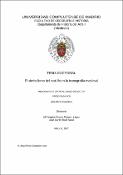 Files
Authors
Advisors (or tutors)
Editors
Publisher
Universidad Complutense de Madrid
Abstract
Este trabajo pretende mostrar de una forma sistemática las distintas posibilidades iconográficas y simbólicas que la forma del castillo, fortaleza o torre tuvo en la Baja Edad Media, tanto a nivel teórico, a través de las fuentes literarias, como a nivel iconográfico, en la plasmación figurativa del castillo. Con la intención de clarificar nuestro trabajo hemos tratado de organizar la totalidad del contenido a través de distintas tipologías iconográficas más o menos flexibles, en función de las semejanzas formales y lectura simbólica concreta que los distintos ejemplos iconográficos y literarios presentan. Con la intención de sistematizar la gran cantidad de material que manejamos hemos clasificado las tipologías iconográficas a las que nos referíamos a la hora de analizar el simbolismo del castillo, en tres grandes ámbitos, como son: el simbolismo religioso, el simbolismo profano y otros simbolismos, convencionalismo que seguiremos a pesar de que creemos firmemente que todos esos niveles no estuvieron separados en su génesis ni en sus formas. En relación con el simbolismo religioso del castillo analizaremos la importancia de la iconografía de la Jerusalén Celestial o la Torre de Babel, entre muchas otras. A continuación exploraremos el simbolismo del castillo en alusión a asuntos profanos, ya sea como estructura efímera, erigida como escenario simbólico de amor o la torre como prisión o espacio de sufrimiento, pero sobre todo, entre todas las posibilidades simbólicas que hemos expuesto en este trabajo, nos hemos centrado especialmente en el estudio de la iconografía del Castillo del Amor...
The present work studies systematically the different representations and symbolism of castles, fortresses and towers during the Late Middle Ages, analyzing literary and iconography sources both from a theoretical and a figurative point of view. In order to clarify the information displayed, contents are organized by diverse iconographic types, more or less flexible, depending on formal similarities and symbolism of texts and iconographies. Iconographic types are divided into three general areas: religious symbolism, profane symbolism and other symbolisms, even when we strongly believe that these areas were different in their origen or in their representation. Firstly, regarding the religious symbolism of the castle, this project studies the relevance of iconographies such as Celestial Jersusalem or the Tower of Babel. Secondly, it explores the profane symbolism of the castle like an ephemeral structure built as a symbolic scenerary of love, and the tower as a prison or space for suffering. However, this project is focused mainly on the iconography of The Castle of Love...
Description
Tesis inédita de la Universidad Complutense de Madrid, Facultad de Geografía e Historia, Departamento de Historia del Arte I (Medieval), leída el 08-01-2016
Collections