Publication:
Daniel Vázquez Díaz, entre tradición y vanguardia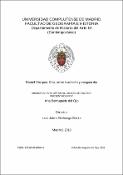 Files
Authors
Advisors (or tutors)
Editors
Publisher
Universidad Complutense de Madrid
Abstract
En la historiografía del arte actual, no es algo discutido que Daniel Vázquez Díaz sea una de las figuras claves de la cultura artística que se desarrolla en España durante el tramo central del siglo XX, pero a su vez, es uno de los artistas más controvertidos. Por un lado, la participación bifronte del pintor en primera fila de una "vanguardia" impulsiva y no programática que no llega dar la espalda a la tradición, y su empeño obsesivo por entrar en el círculo más académico (la Real Academia de San Fernando de Madrid), por otro, le convierten en un artista emblemático de una época, la de los años en los que se produce la renovación formal de nuestra pintura. De esta forma, la compleja recepción de su arte, no es sino reflejo de la compleja y ecléctica manera que el arte español del siglo XX tuvo de asumir la modernidad. En consecuencia, el objetivo principal de la investigación ha sido situar a Vázquez Díaz como eje vertebrador de todo este proceso. El trabajo pretende poner en evidencia cómo su alternativa sirvió de modelo paradigmático de arte moderno en nuestro país durante más de medio siglo, entre 1920 y 1970, poniendo, además, por primera vez al arte español en los años veinte, en comunicación con el Movimiento Moderno europeo. Su original e inconfundible obra, tan alimentada también por la de otros, acabó creando toda una escuela de seguidores. Hubo, también, quién le reprochó el quedarse sólo en la apariencia, pero incluso éstos reconocieron su significación en ese Madrid de los años anteriores a la Guerra Civil. Tras la guerra, la obra de Vázquez Díaz acomodada a un estilo se alejó de los circuitos renovadores, pero su magisterio resultó fundamental para la vanguardia floreciente de los años cincuenta...
Art historians today unanimously regard Daniel Vázquez Díaz as a key figure in Spain's artistic culture during the middle decades of the 20th century, although he was also one of the country's most controversial artists. His leading role at the forefront of an impulsive and far from programmatic avant-garde which never fully rejected tradition, coupled with his obsessive attempts to enter the most academic circles (the Real Academia de San Fernando in Madrid), rendered him something of a landmark figure during a period when Spanish painting was moving in new formal directions. The complex reaction to his work clearly reflects the complicated and eclectic attitude to Modernism characteristic of 20th century Spanish art. One major aim of this research was to highlight the central involvement of Vázquez Díaz in this whole process, to show how his own approach became a model for modern art in Spain for over half a century, from 1920 to 1970, and to chart his success, during the 1920s, in bringing Spanish art into contact with the European Modernist movement. His oeuvre—original, distinctive, yet still influenced by the work of other artists—eventually spawned a whole school of followers. His critics, though deploring his excessive concern with appearances, readily acknowledged his crucial importance in Madrid in the years preceding the Civil War. After the war, Vázquez Díaz's work focussed on a style somewhat removed from that of the new wave, but his teachings had a lasting effect on the flourishing avant-garde of the 1950s...
Description
Tesis de la Universidad Complutense de Madrid, Facultad de Geografía e Historia, Departamento de Historia del Arte III (Contemporáneo), leída el 01-12-2015
Collections