Publication:
El mundo poético de Italo Calvino: literatura, lenguaje y crítica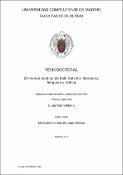 Files
Authors
Advisors (or tutors)
Editors
Publisher
Universidad Complutense de Madrid
Abstract
La presente investigación traza un perfil de la multiforme personalidad literaria de Italo Calvino, adoptando como eje de análisis la producción crítica del autor para reflexionar sobre su trabajo como lector y exégeta. Se presenta su pensamiento en relación a la literatura, en la cual Calvino confía profundamente como un medio de conocimiento de la realidad, capaz de aportar su contribución a la construcción de un mundo gobernado racionalmente. Esta idea evoluciona sobre todo durante su estancia parisina, durante la cual se pudo beneficiar de los intercambios positivos con los miembros del círculo Ou.li.po., apasionarse al trabajo de Raymond Queneau y acercarse a las teorías literarias modernas, como la semiótica y el estructuralismo, experimentando las nuevas fórmulas que la aplicación del método combinatorio ofrecía a su escritura. Se trata de una idea que la última parte de su obra problematizó cada vez más frente a un mundo que le parecía dominado por contradicciones insolubles. De manera paralela y complementaria a su concepción literaria, la presente investigación desarrolla la concepción lingüística de Calvino, haciendo una comparación con Pier Paolo Pasolini. Además, presenta la comparación de su obra con Jorge Luis Borges, mostrando los puntos de contacto y las diferencias entre dos visiones de la literatura y la importancia que la obra del escritor argentino tuvo en el trabajo de escritura de Calvino.
This research draws a profile of the manifold literary personality of Italo Calvino, taking Calvino's critical production as the main focus of the analysis in order to reflect on his work as a reader and commentator. His thought is presented in relation to literature, in which Calvino deeply trusts as a means of knowledge of reality, able to make its contribution to build a world governed by rationality. This idea evolves especially during his stay in Paris, which allowed him to benefit from the positive exchanges with members of the Ou.li.po. circle, to become impassioned with the work of Raymond Queneau and to approach modern literary theories, such as semiotics and structuralism, by experimenting with new ways of composition that the application of combinatorial method gives to his writing. It is an idea that the last part of Calvino's production problematised increasingly, facing a world that was seemingly dominated by insoluble contradictions. Parallel and complementary way to his literary conception, this research develops the linguistic conception of Calvino, making a comparison with Pier Paolo Pasolini. Moreover, it presents the comparison of his work with Jorge Luis Borges, showing the contact points and the differences between two views of literature and the importance that the work of the Argentine writer had for Calvino's writing work.
Description
Tesis inédita de la Universidad Complutense de Madrid, Facultad de Filología, leída el 15/07/2016
Collections