Publication:
Mediación, conciliación y sentencias de conformidad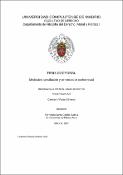 Files
Authors
Advisors (or tutors)
Editors
Publisher
Universidad Complutense de Madrid
Abstract
En España, hasta época reciente, únicamente a través del proceso judicial se han podido resolver los conflictos jurídicos. La vía judicial se revela insuficiente para solventar todos los conflictos que se presentan en una sociedad compleja como la nuestra, y se hace necesario acudir a otros mecanismos alternativos al proceso. Estos métodos implican una privatización del proceso de creación y aplicación del derecho competencia exclusiva del estado, rompiendo así con uno de los pilares básicos de la constitución moderna del estado democrático de derecho de tipo occidental, al sustraer del poder del Estado la aplicación de la ley a los casos concretos que le someten los ciudadanos, mediante el encargo de su resolución a individuos o entidades sociales. Las ventajas inherentes a las modalidades de justicia privada (desarrolladas fundamentalmente en el ámbito comercial) y la crisis de eficacia de los sistemas judiciales suscitaron un interés renovado hacia estos métodos extrajudiciales de carácter voluntario de apaciguamiento de los conflictos más consensuales y eficaces. La publicación en España de la Ley 5/2012, de 6 de julio de mediación en asuntos civiles y mercantiles, en cumplimiento de la Directiva 52/2008 y el debate parlamentario que le precedió ha llevado a muchos juristas, que hasta ahora profesaban el agnosticismo en la materia, a comprender que la sociedad de nuestros días necesita una justicia diferente, donde la mediación va a cobrar gran protagonismo...
Until recently in Spain, they have only been able to resolve legal disputes through judicial means. Judicial proceedings is proving insufficient to resolve all conflicts that arise in a complex society like ours, and its becoming necessary to turn to alternative mechanisms to the process. These methods imply a privatization of the process of creation and application of law, currently exclusive jurisdiction of the State, breaking thus one of the basic pillars of modern constitutions of Western type democratic states, by subtracting from the the Statés jurisdiction the implementation of the law to the individual cases submitted to it by citizens, by commissioning its resolution to individuals or social entities. The inherent advantages to private justice procedures (developed mainly in the commercial sector) and the crisis of efficiency of justice systems led to a renewed interest towards these voluntary extrajudicial methods of appeasement of conflicts in a more consensual and effective way. The publication in Spain of Law 5/2012 of 6 July of mediation in civil and commercial matters, in compliance with Directive 52/2008, and the parliamentary debate that preceded has led many lawyers, whom until recently professed agnosticism in the matter, to understand that society today needs a different court, where mediation will gain prominence. We still show a significant delay when compared to neighboring countries that have adopted this method of dispute resolution; It is necessary, therefore, that all legal practitioners (lawyers, parties, judges, clerks, attorneys, notaries...) assimilate the change represented by this new methodology...
Description
Tesis inédita de la Universidad Complutense de Madrid, Facultad de Derecho, Departamento de Filosofía del Derecho, Moral y Política I, leída el 26-11-2015
Collections