Publication:
Agencias de calificación crediticia y administración tutelar: más allá de la responsabilidad civil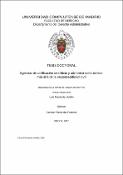 Files
Authors
Advisors (or tutors)
Editors
Publisher
Universidad Complutense de Madrid
Abstract
La presente tesis intenta avanzar un paso más en la esencial cuestión de la responsabilidad de las Agencias de Calificación Crediticia, así como en los modos de exacción de la misma. Partiendo de la naturaleza de las calificaciones crediticias o ratings como meras opiniones –por complejas que puedan ser-, la protección de que habían venido gozando se asimilaba de facto a la práctica inmunidad, dada la histórica entidad constitucional de la protección de la libertad de expresión: tanto en Europa como en los Estados Unidos, sedes de las "tres grandes": Moody's, Standard & Poor`s y Fitch. Mas esta cuasi-inmunidad amparada en la libertad de expresión, a medida que se iban sucediendo las grandes crisis financieras de los siglos XX y XXI, fue despertando en el legislador la conciencia de que existía una creciente necesidad de someter a estas macro entidades a mecanismos de control, so pena de permitir que se erigieran en los actores principales de unos mercados en que las decisiones de inversión dependen en gran medida de las inercias de y las opiniones de los actores más revestidos de auctoritas. Así se fueron paulatinamente introduciendo mecanismos de responsabilidad civil sustentados en el binomio privado clásico lesión/daño imputable, añadiéndose mecanismos correctores, así como terceros ajenos a la relación contractual (como los pequeños inversores) y, muy poco a poco, figuras de supervisión pública...
The present thesis tries to go one step beyond the issue of rating agencies' accountability, advancing on the enforcement of such liability as well. Given the fact that ratings are sheer opinions –complex as they may be- the degree of legal protection they enjoyed as such could be considered equal to a de facto immunity, stemming from the historical entity of the protection of freedom of speech: both in Europe as in the US, sieges of the three great rating agencies: Moody's, Standard & Poor`s and Fitch Ratings. But as the great financial crashes of the XXth century took place one after the other, this immunity awoke in the mind of the legislator (the mens legislatoris) the conscience of a growing need to subject these giants to mechanisms of control. Otherwise, they would become the main characters (not just actors) in a special kind of markets in which investment decisions depend to a great extent of both mass inertias and the opinions of those actors invested of most auctoritas. Thus were introduced civil liability-based tools, based on the classic private law duet damage/inflicted action, adding as well correcting mechanisms, third parties alien to the contractual relation (such as small investors) and, little by little, institutions of public supervision, surveillance and intervention...
Description
Tesis inédita de la Universidad Complutense de Madrid, Facultad de Derecho, Departamento de Derecho Administrativo, leída el 27-01-2016
Collections