Publication:
Historia de una disidencia: memoria y ficción en la obra de Juan Goytisolo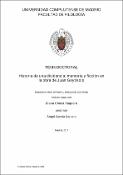 Files
Authors
Advisors (or tutors)
Editors
Publisher
Universidad Complutense de Madrid
Abstract
A través de sus novelas más relacionadas con la narrativa del yo Juan Goytisolo participa del debate en torno a la transformación de los géneros literarios. Principalmente lo hace transgrediendo los límites de la identidad mediante las relaciones entre memoria y ficción y explorando las relaciones entre las categorías de autor, de narrador y de personaje, y teniendo en cuenta el inevitable papel del lector y el impacto resultante del texto. La idea de la memoria y la ficción entendidas como polos sobre los que gravita la evolución literaria de Juan Goytisolo proviene de un artículo de Francisco J. Ávila, "Polos y ámbitos para una teoría de los géneros. El polo lírico frente al polo narrativo" del año 2006. Tal artículo nos proporciona un clarividente punto de partida para enmarcar la discusión en torno a los géneros literarios. Atendiendo a su estructura, los dos primeros capítulos de esta investigación se centran en la introducción, la metodología y, finalmente, el estado de la cuestión, tanto de los estudios de la obra de Juan Goytisolo como de los relacionados con la narrativa del yo. La parte central de la investigación se basa en el estudio comparativo de las obras seleccionadas del autor teniendo en cuenta la identidad literaria que está representada en cada una de ellas. El periodo cronológico seleccionado abarca desde 1966 a 2008, que coincide con el desarrollo de la posmodernidad como movimiento cultural...
Through his literary works of authorial narrative, Juan Goytisolo adds fuel to the debate surrounding the transgression and transformation of literary genres by transgressing the boundaries of identity through memory and fiction and exploring the ties between the categories of author, narrator and character, and inevitably the role of the reader and the resulting impact of the text. Juan Goytisolo's literary evolution is a key aspect to consider when analyzing the extent to which his work moves between two poles: fiction and memory. The idea of different poles was first proposed in an article by Francisco J. Avila in 2006, "Polos y ámbitos para una teoría de los géneros. El polo lírico frente al polo narrativo", and provides a starting point to frame our discussion of literary genres. The first two chapters of this doctoral thesis focus on the introduction to and methodology of my research and the investigation to date that has been done on the works by Juan Goytisolo, with special emphasis placed on that of the narrative of self. My research is based on the comparative study of selected works by Juan Goytisolo, distinguished from one another and also joined together by the way in which literary identity is represented in the texts. The selected works are part of a particular chronological period (1966-2008) during which the cultural movement of postmodernism developed...
Description
Tesis inédita de la Universidad Complutense de Madrid, Facultad de Filología, leída el 18/10/2016
Collections