Publication:
Rentabilidad diagnóstica de la perimetría pulsar y la polarimetría láser en pacientes hipertensos oculares con perimetría blanco-blanco (TOP G1) normal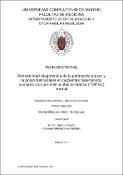 Files
Authors
Advisors (or tutors)
Editors
Publisher
Universidad Complutense de Madrid
Abstract
El glaucoma es una enfermedad neurodegenerativa, un grupo de trastornos crónicos y progresivos, con una base causal multifactorial y compleja. Es un espectro, cuyo "continumm" depende del estadio en que se le identifique. Es la segunda causa de ceguera legal en el mundo y la primera de ceguera irreversible con una alta prevalencia global. En el paciente con hipertensión ocular (HTO), como sospechoso de glaucoma, el reto para el oftalmólogo es mayor y conocer la magnitud de la existencia de factores de riesgo resulta fundamental, considerando que los límites de conversión a glaucoma son a veces difíciles de identificar, y que en las pruebas diagnósticas no se manifiestan alteraciones funcionales y estructurales en las etapas más incipientes de la enfermedad. Estrategias perimétricas como Pulsar son consideradas para el estudio funcional en el diagnóstico precoz de glaucoma; mientras que la detección precoz del daño estructural se logra empleando técnicas en constante perfeccionamiento, entre las que se destacan la polarimetría láser (GDx), la tomografía de coherencia óptica (OCT) o la tomografía retiniana de Heidelberg (HRT), entre otras...
Glaucoma is a neurodegenerative disease, a group of chronic and progressive disorders with a multifactorial and complex ethiology. It's an entity, whose continuum depends on the stage in which it's identified. It's the second leading cause of legal blindness in the world and the first cause of irreversible blindness with a high global prevalence. Patients with ocular hypertension (OH) who are suspicious of glaucoma represent a challenge for the ophthalmologist, increasing the need of identifying risk factors considering that conversion limits to glaucoma are sometimes hard to recognize and diagnostic tests do not show functional and structural alterations in the early stages of the disease. Perimeter strategies like Pulsar Perimetry are useful for functional studies and early diagnosis of glaucoma, while the early detection of structural damage is achieved by techniques that are continuously being studied and improved, such as Laser Polarimetry (GDx), Optical Coherence Tomography (OCT) or Heidelberg Retina Tomography (HRT)...
Description
Tesis inédita de la Universidad Complutense de Madrid, Facultad de Medicina, Departamento de oftalmología y otorrinolaringología, Servicio de oftalmología Hospital Clínico San Carlos de Madrid, leída el 21/01/2016
Collections