Publication:
Disfunción sociocognitiva en los trastornos mentales severos: inteligencia emocional en esquizofrenia y trastorno bipolar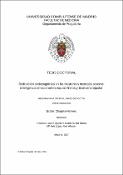 Files
Authors
Advisors (or tutors)
Editors
Publisher
Universidad Complutense de Madrid
Abstract
Los trastornos mentales severos son objeto de creciente investigación en el área de la inteligencia emocional debido a su relación con la pérdida de funcionalidad psicosocial. A pesar de los avances de los tratamientos, los pacientes continúan presentando altos grados de discapacidad social, laboral y personal, que se relacionan con la presencia de déficits en la esfera cognitiva (Couture S.M. 2006). Estas alteraciones se manifiestan en dos áreas: la neurocognición y la cognición social. Tanto los pacientes con esquizofrenia como los que padecen trastorno bipolar presentan significativa disfunción neurocognitiva, más acusada en los primeros. La cognición social se encuentra deteriorada en la esquizofrenia, pero parece relativamente conservada en el trastorno bipolar (Lee J. 2013). Tanto la neuro como la sociocognición se han relacionado con la discapacidad. De hecho, en la actualidad se considera que en la esquizofrenia la cognición social predice mejor el funcionamiento que la neurocognición (Schmidt S.J. 2011) (Fett AKJ 2011) (D. C. Bowie C.R. 2010). La cognición social engloba los procesos mentales necesarios para las relaciones interpersonales y el desempeño social. Incluye habilidades como el reconocimiento de normas sociales, la capacidad para inferir estados mentales, apreciar el contexto social y gestionar las propias emociones. La inteligencia emocional, definida como la habilidad para procesar, entender y manejar las emociones, es uno de los principales componentes de la sociocognición. En las personas con esquizofrenia se han demostrado alteraciones de las capacidades relativas a la cognición social, entre ellas la inteligencia emocional. En el trastorno bipolar parecen más conservadas (Lee J. 2013) y con menor repercusión funcional (Pacheco A. 2010). Hasta el momento son escasos los estudios que comparan la inteligencia emocional en el trastorno bipolar y la esquizofrenia. El objetivo de esta investigación es comprender mejor las características diferenciales y los factores que condicionan estas disfunciones sociocognitivas en los trastornos mentales severos para optimizar el diseño de intervenciones específicas orientadas a facilitar la máxima recuperación de estas habilidades, para mejorar el pronóstico y la calidad de vida de estos pacientes...
The severe mental disorders are the subject of growing research in the area of emotional intelligence because of his relationship with psychosocial functionality loss. Despite treatment advances, patients continue to experience high levels of social, professional and personal disabilities, related to the presence of deficits in cognition (SM Couture 2006). These changes are manifested in two areas: the neurocognitive and social cognition. Both patients with schizophrenia and those with bipolar disorder have neurocognitive dysfunction, more severe in the first. Social cognition is impaired in schizophrenia, but seems relatively preserved in bipolar disorder (Lee J. 2013). Both neuro and sociocognition have been linked to disability. In fact, today it is considered that in schizophrenia social cognition predicts performance better that neurocognition (SJ Schmidt 2011) (Fett AKJ 2011) (DC Bowie CR 2010). Social cognition includes the mental processes required for interpersonal relationships and social performance. Includes skills such as recognition of social standards, the ability to infer mental states, appreciate the social context and manage emotions. Emotional intelligence, defined as the ability to process, understand and manage emotions, is one of the main components of the sociocognition. People with schizophrenia show changes in the capabilities related to social cognition, including emotional intelligence. In bipolar disorder they seem more conserved (Lee J. 2013) with less functional impairment (A. Pacheco 2010). So far there are few studies comparing emotional intelligence in bipolar disorder and schizophrenia. The objective of this research is to better understand the different characteristics and the factors affecting these social-cognitive dysfunctions in severe mental disorders to optimize the design of specific interventions to facilitate maximum recovery of these skills in order to improve the prognosis and quality of life of these patients...
Description
Tesis inédita de la Universidad Complutense de Madrid, Facultad de Medicina, Departamento de Psiquiatría, leída el 13-01-2016
Collections