Publication:
Diferencias sociodemográficas y estudio epidemiológico de los resultados de gestación en mujeres inmigrantes y autóctonas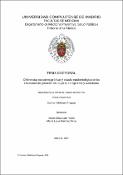 Files
Authors
Advisors (or tutors)
Editors
Publisher
Universidad Complutense de Madrid
Abstract
La relación entre la salud y la migración es compleja e implica factores, no solamente biológicos, sino también sociodemográficos, culturales, económicos y de adaptación. En este trabajo se analizan algunos de estos factores en la población de Niños Sanos (Controles) y de Niños con Defectos Congénitos (Casos) de la base de datos del ECEMC (1976-2013), a través de variables materno-paternas, obstétricas y neonatales. Es sabido que el proceso de inmigración conlleva muchos cambios en la vida de los que emigran, ya que no suele ser fácil su adaptabilidad personal al nuevo país. Las personas inmigrantes, en general, incluyendo las mujeres en edad reproductiva, tienen más posibilidades de estar expuestas a peores condiciones sociales, laborales, de vivienda, de mala alimentación, etc., factores que determinan un déficit en la calidad de salud. Si a esto le añadimos las barreras con que se pueden encontrar, tanto a nivel administrativo, como cultural o idiomático, y que dificultan su acceso a los servicios de salud, podemos concluir que la condición de migrante es un factor de riesgo adverso para la salud materna y perinatal, toda vez que la falta de acceso real y efectivo a los cuidados de salud puede conducir a una mayor morbilidad materno-infantil. Una atención sanitaria adecuada es uno de los factores determinantes del nivel de salud de la población, y de ahí el que la salud reproductiva se haya convertido en una prioridad sanitaria en los países desarrollados...
The relationship between health and migration has great complexity, and involves factors, not only biological, but also socio-demographic, cultural, economic and adaptative ones. This paper discusses some of these factors among the Healthy Children population (Controls) and Children with Congenital Abnormalities (Cases) of the ECEMC database (1976-2013), by means of maternal, paternal, obstetric and neonatal variables. It is well known that immigration process involves many life changes in those who emigrate, since their personal adaptability to the new country is not easy. Immigrants, in general, including women in reproductive age, are more likely to be exposed to worse social, working and housing conditions, poor nutrition, etc. All of these are factors determine a lower health quality. Besides, if we add the barriers that they can find, either administratively, cultural or linguistic, hindering their access to health services, we can conclude that the migrant condition is an adverse maternal and perinatal health risk factor, provided that the lack of real and effective access to health care can lead to increased maternal-infant morbidity. An adequate health care attention is a determining factor for a population health level, hence reproductive health has become a priority in developed countries In Spain, unlike other countries, health care coverage is universal for pregnant women and their children, regardless of their administrative or legal status...
Description
Tesis inédita de la Universidad Complutense de Madrid, Facultad de Medicina, Departamento de Medicina Preventiva, Salud Pública e Historia de la Ciencia, leída el 25-01-2016
Collections