Publication:
Implicaciones pronósticas de las concentraciones séricas de testosterona en ancianos hospitalizados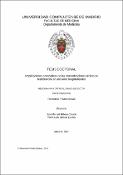 Files
Authors
Advisors (or tutors)
Editors
Publisher
Universidad Complutense de Madrid
Abstract
La función gonadal en el varón se ve afectada por la edad. Las concentraciones séricas de de testosterona (T) disminuyen a partir de la 5ª década de la vida. Los estudios epidemiológicos han mostrado que la prevalencia de hipogonadismo oscila entre 6 y 9,5% en los varones de 40-70 años que viven en la comunidad, se eleva a 15-30% en aquellos varones con diabetes u obesidad y aumenta a más del 50% en los hospitalizados por enfermedad aguda. La deficiencia de T puede afectar negativamente la salud del varón, principalmente a través de sus efectos negativos sobre la esfera sexual (disminución de la libido y disfunción eréctil), composición corporal (disminución de la masa muscular y la fuerza, aumento de la grasa corporal, y la reducción de la densidad mineral ósea) y la calidad de vida. El hipogonadismo también se ha asociado con la comorbilidad relacionándose con los factores de riesgo cardiovascular (FRCV), como obesidad, diabetes, síndrome metabólico (SM), inflamación, y con el incremento del riesgo de muerte por todas las causas y cardiovascular (CV). Algunos estudios han sugerido que el tratamiento hormonal sustitutivo con T tendría un efecto protector sobre los FRCV...
Gonadal function in men decreases with age. Serum testosterone (T) concentration decrease from 5th decade of life. Epidemiological surveys have shown that the prevalence of hypogonadism ranges from 6 to 9.5 % in community dwelling men aged 40–70 years, and rises to 15–30 % in diabetic or obese men and increases even more than 50 % in elderly male patients hospitalized for acute illness. Androgen deficiency may adversely affect meńs health, primarily through its negative effects on their sexual function (decreased libido and erectile dysfunction), body composition (decreased muscle mass and strength, increased body fat, and decreased bone mineral density), and quality of life. Hypogonadism has also been associated with comorbidity, affecting CV risk factors (CVRF), such as obesity, diabetes, metabolic syndrome, inflammation, and increased risk of death from all causes and CV mortality. Some studies have suggested that hormonal replacement therapy with T could have a protective effect on CVRF...
Description
Tesis inédita de la Universidad Complutense de Madrid, Facultad de Medicina, Departamento de Medicina, leída el 14-12-2015
Collections