Publication:
Tierra Caliente: El 'fin' del jardín tropical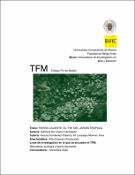 Authors
Advisors (or tutors)
Editors
Abstract
La presente investigación, retoma y revisa los conceptos de algunos de los imaginarios impuestos sobre la naturaleza tropical americana de las colonias españolas desde la mirada decolonial, haciendo énfasis en los mecanismos de exhibición de la naturaleza tropical, como son los invernaderos de cristal construidos durante el siglo XIX y XX en Europa y que, desde el pensamiento Ilustrado y Moderno-occidental, han transformado la visión de la naturaleza americana y el paisaje bajo las lógicas capitalistas hasta el día de hoy. Utilizando como analogía la construcción del jardín el trabajo traza un recorrido que se presenta como una dualidad que confronta el discurso científico e histórico establecido y una perspectiva del conocimiento situado como epistemología del Sur
This research, reviews the concepts of some of the imaginary imposed on the American tropical nature of the Spanish colonies from the decolonial view, emphasizing the mechanisms of exhibition of tropical nature, such as glass greenhouses built during the nineteenth and twentieth centuries in Europe which, from the Enlightenment and Modern-Western thought, have transformed the vision of American nature and landscape under the capitalist logic until today. Using as an analogy the construction of the garden, the work traces a path that is presented as a duality that confronts the established scientific and historical discourse and a perspective of knowledge located as epistemology of the South.
Citation
Arboleda Quiñonez, Santiago (2016). Plan Colombia: descivilización, genocidio, etnocidio y destierro afrocolombiano. Nómadas (Col), (45),75-89. [fecha de Consulta 29 de agosto de 2020]. ISSN: 0121-7550. Disponible en: https://www.redalyc.org/articulo.oa?id=1051/105149483007 Arnold, David. (2000) La naturaleza como problema histórico. El medio, la cultura y la expansión de Europa. Mexico: Fondo de Cultura Económico Appelbaum,Nancy P (2017) Dibujar la Nación. La comisión coreográfica en la colombia del siglo XIX. Bogotá: Universidad de los Andes, Ediciones Uniandes: Fondo de Cultura Económico,2017. Bardion, Michel (2004) Los Jardines. Paisajistas Jardineros Poetas. Madrid: Abada Editores. Baudelaire, Charles (1868) Curiosidades Estéticas. París : Hermanos Michel Lévy. Benjamin, Walter. (2004) Libro de los Pasajes. Madrid: Ediciones Akal. Bleichmar, Daniela (2012) El imperio visible: expediciones botánicas y cultura visual en la Ilustración hispánica. México: FCE- Fondo de Cultura Económica Bleichmar, Daniela. (2014) Imágenes viajeras: La cultura visual y la historia natural ilustrada. En: del Pino-Díaz, Fermín. (Ed) El Quadro de historia del Perú (1799), un texto ilustrado del Museo Nacional de Ciencias Naturales (Madrid). (p.p 119-136) Perú: Universidad Agraria La Molina. Bleichmar, Daniela (2008) El Imperio Visible: La mirada experta y La imagen en las expediciones científicas de la Ilustración. Cuadernos dieciochistas, ( 9), 2008, pp. 21-47 Cabrera, Marta (junio-diciembre,2014) Mapeando los estudios visuales en América Latina: puntos de partida, anclajes institucionales e iniciativas. Revista Cuadernos de Música, Artes Visuales y Artes Escénicas. Recuperado de: https://revistas.javeriana.edu.co/index.php/cma/article/view/13071 Cajigas-Rotundo,Juan Camilo. (2007). La biocolonialidad del poder. Amazonía, biodiversidad y ecocapitalismo. En Castro-Gómez, Santiago. (Ed). El giro decolonial. Reflexiones para una diversidad epistémica más allá del capitalismo global. (pp. 169-193). Bogotá: Siglo del Hombre Editores. Castro - Gómez, Santiago. (2010). La Hybris del Punto Cero: Ciencia, raza e ilustración en la Nueva Granada (1750-1816). Bogotá: Editorial Pontificia Universidad Javeriana Castro-Gómez, Santiago (2007) y Grosfoguel Ramón. (2007) Prólogo. Giro decolonial, teoría crítica y pensamiento heterárquico. En Castro-Gómez, Santiago (Ed). El giro decolonial.Reflexiones para una diversidad epistémica más allá del capitalismo global. (pp.9-21). Bogotá: Siglo del Hombre Editores. Castro- Gómez, Santiago (2005) La Poscolonialidad explicada a los niños. Cauca: Editorial Universidad del Cauca. Castro- Gómez, Santiago (2009) Tejidos Oníricos. Movilidad, Capitalismo y Biopolítica en Bogotá 1910-1930. Bogotá: Editorial Pontificia Universidad Javeriana Caldas, Francisco José de. (2009) "Del influjo del clima sobre los seres organizados (1808)" Cali: Fotocopioteca Nº 16 Lugar a Dudas Correa Rubio, François. (2005) Sociedad y Naturaleza en la mitología muisca. Tabula Rasa. (No.3), 197-222. Cox, George W. Alien Species and Evolution : The Evolutionary Ecology of Exotic Plants, Animals, Microbes, and Interacting Native Species, Island Press, 2004. Centro Nacional de Memoria Histórica. Putumayo: la vorágine de las caucherías. Memoria y testimonio. Primera parte. Bogotá: CNMH, 2014 Comenius, Iohannes Amos (2017) Orbis Sensalium Pictus.Barcelona: Editorial Libros del Zorro Rojo Comment, Bernard (2004) The Panorama. London: Reaktion Books Danowski Déborah, de Castro Viveiros Eduardo. (2019) ¿ Hay un mundo por venir? Ensayo sobre los miedos y los fines. Buenos Aires: Caja Negra Editora. Driver Felix, Martins, Luciana (2005) Views and Visions of the Tropical World. En Driver Felix, Martins,Luciana (Ed) Tropical Visions in an Age of Empire (pp 3-20). Chicago: The University of Chicago Press. Elkins,James.(2011) Against the sublime. En: Hoffmann, Roald y Boyd Whyte, Iain (Ed) Beyond the Finite : The Sublime in Art and Science (p.p 75-90) New York: Oxford University Press Eden, Frederic. (2019) Un Jardín en Venecia. España: Gallo Negro Ediciones. Escobar, Arturo. (2007). La Invención del Tercer Mundo: Construcción y deconstrucción del desarrollo. Caracas: El Perro y la Rana. Escobar, Arturo (2010) Territorios de diferencia: Lugar, movimientos, vida, redes. Popayán: Envión Editores. Foucault, Michel. (1968) Las palabras y las cosas: Una arqueología de las ciencias humanas. Argentina: Siglo veintiuno editores. Gómez Ortega, Casimiro. (1779) Instrucción sobre el modo mas seguro y económico de transportar plantas vivas por mar y tierra á los paises mas distantes Edición digital basada en la de Madrid, Joaquín Ibarra, 1779. Edición facsímil: Madrid, Fundación Ciencias de la Salud [etc.], 1992. Tomado de: http://www.cervantesvirtual.com/obra/instruccion-sobre-el-modo-mas-seguro-y-economico-de-transportar-plantas-vivas--0/. Haraway, Donna J. (1995). Ciencia, Cyborgs y Mujeres: La Reinvención de la Naturaleza. Madrid: Ediciones Cátedra. Haraway Donna J. (2015) El patriarcado del Osito Teddy. Barcelona: Sans Soleil Ediciones. Haraway Donna J (enero-junio2016) Antropoceno, Capitaloceno, Plantiacionoceno, Chthuluceno: generando realciones de parentesco.Revista Latinoamericana de Estudios Críticos Animales. Extraído de: http://revistaleca.org/journal/index.php/RLECA/issue/view/6. Harvey David (2018) Justicia, naturaleza y la geografía de la diferencia. Madrid: Editorial Traficantes de Sueños. Huberman,Didi (2011) Ante el tiempo, Historia del arte y anacronismo de las imágenes. Buenos Aires: Ed. Adriana Hidalgo. Humboldt, Alexander Von. (1875) Cosmos. Ensayo de una descripción física del mundo. Sevilla: Editor Eduardo Perié. Humboldt, Alexander Von (1879) Cuadros de la Naturaleza. Madrid: Gaspar Editores. Isenberg C, Andrew (2014). The Oxford Handbook of Enviormental History. New York: Oxford Press university. Morton, Thimothy (2007) Ecology without nature. Rethinking Enviormental Aesthetics. Massachusetts: Harvard University Press. Morton, Thimothy (2018) Dark Ecology. For a Logic of Future Coexistance. New York:Columbia University Press. Nieto Olarte, Mauricio. (2019) Remedios para el Imperio: Historia Natural y la apropiación del Nuevo Mundo. Bogotá: Ediciones Uniandes. Nieto Olarte, M. (2010). Americanismo y eurocentrismo: Alexander von Humboldt y su paso por el Nuevo Reino de Granada. Bogotá: Ed. Uniandes. Latour, Bruno (2007) Nunca fuimos modernos. Ensayo de la antropología simétrica. Buenos Aires: Siglo XXI Editores. Latour, Bruno. (2011) Esperando a Gaia. Componer el mundo común mediante las artes y la política. Cuadernos de otra parte (p.p 67-76). Latour, Bruno (2014). New Literary History. Agency at the Time of the Anthropocene.Volumen 45, (1) Johns Hopkins University Press p.p 1-18. Merchant Carolyn, Reinventing Eden : The Fate of Nature in Western Culture. Abingdon: Editorial Taylor & Francis Group. Rolnik, Suely (abril 2010) Furor de Archivo. Revista Errata (1) (p.p 38-52) Extraído de: https://www.revistaerrata.gov.co/edicion/errata1-arte-y-archivos. Romero Caballero, Belén. (2015). "La colonialidad de la naturaleza. Visualizaciones y contra-visualizaciones decoloniales para sostener la vida" [artículo en línea] Extravío. Revista electrónica de literatura comparada.Extraído de: https://ojs.uv.es/index.php/extravio/article/view/4528/6803. Pinzón Martínez, Felipe. (2016) Una cultura de invernadero: trópico y civilización en Colombia (1808-1928). Madrid: Editorial Iberoamericana. Pratt,Mary Louis. (1992) Emperial Eyes. Travel Writing and Transculturation. New York: Ed. Routledge Taylor & Francis Group. Rivera, Cusicanqui Silvia. (2015) Sociología de la imagen. Miradas ch'ixi desde la historia andina. Buenos Aires: Editorial Tinta Limón. Said, Edward W. (2008) Orientalismo. Barcelona: Editorial Debolsillo Segato, Rita (2015) La colonialidad en ocho ensayos y una antropología por demanda. Buenos Aires: Prometeo Libros. Silva, José Asunción. (2015) De Sobremesa Bogotá: Ministerio de Cultura: Biblioteca Nacional de Colombia. Sloterdijk,Peter.(2006) Esferas III. Madrid: Ediciones Siruela. Sloterdijk,Peter.(2019) En el mundo interior del capital: para una teoría filosófica de la globalización. Madrid: Ediciones Siruela. Soper, Kate (1995) What is Nature? Culture, Politics and the non-human. Oxford: Blackwell. Stengers Isabelle, (2017) En tiempos de catástrofes: como resistir a la barbarie que viene. Argentina: Editorial Futuro Anterior. Stepan, Nancy Leys (2001). Picturing Tropical Nature. London: Reaktion Books. Sousa-Santos,Boaventura(2010) Descolonizar el saber, reinventar el poder.Urugay: Ediciones Trilce. Sousa Santos (2003) Critica de la razon indolente. Contra el desperdicio de la experiencia. Bilbao: Editorial Desclée. Sutter, Paul S. (2014). The tropics: A brief History of an Enviormental imaginary. En Isenberg C, Andrew (Ed) The Oxford Handbook of Enviormental History. (pp. 178-206). New York: Oxford Press university. Swyngedouw, Erik. (marzo,2011) La Naturaleza no existe. La sostenibilidad como síntoma de una planificación despolitizada. Revista Urban. Extraído de: http://polired.upm.es/index.php/urban/article/view/410. Ulloa Astrid, (2017, mayo-agosto) Dinámicas ambientales y extractivas en el siglo XXI: ¿es la época del Antropoceno o del Capitaloceno en Latinoamérica? Desacatos. Extraído de: http://desacatos.ciesas.edu.mx/index.php/Desacatos/issue/view/102. Ulloa, Antonio de; Juan, Jorge (1748). Relación histórica del viaje a la América Meridional, Volumen I. Madrid:Antonio Marin. Villegas Benjamín, (2000) Cerros de Bogotá. Bogotá: Villegas Editores. Vindel, Jaime. (2018) Visualidades críticas y ecologías culturales. Madrid: Editorial Brumaria. Zavala, Iris M. (1992). Discursos sobre la invención de América. Amsterdam: Editorial. Wallach, Alan. (2008) Between subject and object. En: Elkin, James y DeLue Rachel. (Ed) Landscape Theory (p.p 315-321) New York: Taylor and Francis Group. Wulf, Andrea (2019) La Invención de la Naturaleza. El nuevo mundo de Alexander Von Humboldt. Barcelona: Editorial Penguin Random House. Wolfe Charles, Surel Oliver (2019) On the Aestheticization, Institutionalization, and Dramatization of the Concept of Nature. En García Tristán , Normand Vincent , (Ed) Theater, Garden, Bestiary : A Materialist History of Exhibitions (p.p 141-150) Berlín: Sternberg Press.